Falklands' Police appealing to Darwin cemetery visitors to advance damages' investigation
Friday, February 3rd 2017 - 09:13 UTC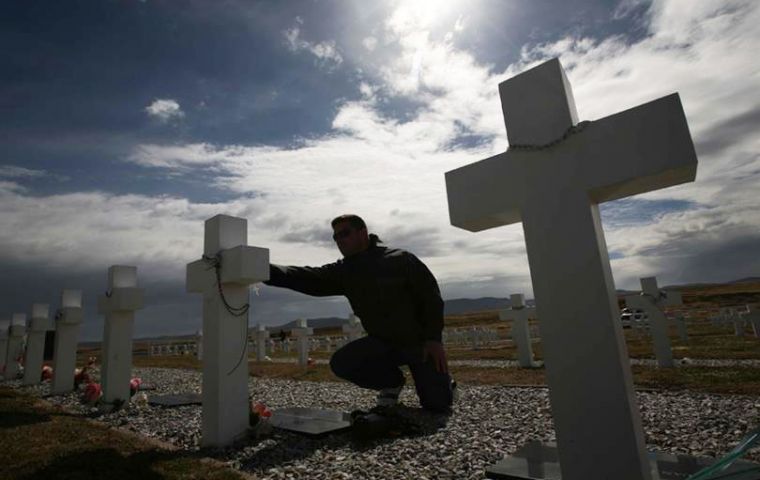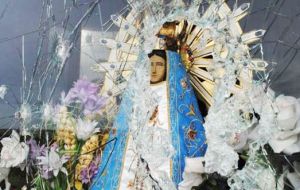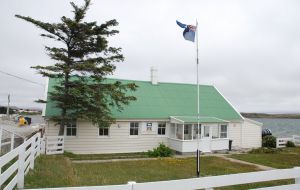 The Royal Falkland Islands Police are continuing to investigate reported damage within the Argentine Cemetery near Darwin which was discovered during the last week of January. The damage refers to the vandalized case containing a statue of the Virgin of Lujan, and the image, overlooking the lines of crosses at the cemetery.
According to a release from the Falklands government, in order to assist in ascertaining the date the incident occurred officers have been speaking to people who have visited the cemetery during December 2016 and January 2017.
Police are now appealing for anyone who has visited the cemetery during these months to contact them. The Investigation Team are especially keen to view photographs of the case and statue taken during this time.
Likewise the Royal Falkland Island Police would like to thank those members of the public who have already provided assistance during the enquiry. Information can also be provided in confidence on 28112.
When the damage to the stoned case and statue of the Virgin of Lujan was reported, Tuesday January 25, the Argentine and Falklands governments immediately condemned the vandalizing actions.
In a brief report the Falklands government said the damage caused is clearly distressing to the families of the Argentines buried at the cemetery and is regretted by the people of the Falkland Islands.
Likewise the Argentine Foreign Ministry sent a note to the British embassy in Buenos Aires repudiating the action and asking the UK government to launch an immediate investigation.
The ministry said in a statement that the vandalism is "particularly regrettable" given the recent decision by Argentina and Britain to identify the remains of more than 100 Argentine soldiers buried in the cemetery after the 1982 war.
"This significant advance in such a sensitive humanitarian issue is not matched by the intolerance and violence displayed by those who attacked the final resting place of the Argentine combatants fallen in 1982".
The release recalls that the construction of the memorial was possible based on the Joint Declaration from 14 July 1999 signed by Argentina and UK.
A few hours later the Foreign Office Minister for the Americas, Alan Duncan twitted he "was appalled to hear of act of vandalism at Darwin Cemetery in Falkland Islands. Welcome urgent response & investigation by FIG".
Likewise the British ambassador in Argentina, Mark Kent twitted condemning and regretting vandalism at the cemetery. "Vandalism in cemeteries in unjustifiable and shows a total lack of human decency".
Finally it must be mentioned that the Argentine ministry release, in its last paragraph, also underlines that "Argentina reaffirms, once again, its legitimate rights over the Malvinas, South Georgia and South Sandwich islands and surrounding maritime spaces, which are integral part of national territory".