Return Malvinas and Gibraltar before talking about Crimea, Russia tells UK
Saturday, February 4th 2017 - 13:06 UTC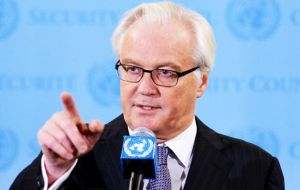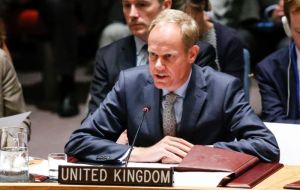 Russia's ambassador to the UN has suggested that Britain should "clean its conscience" by "giving back" the Falklands/Malvinas and Gibraltar before it passes judgment on the Kremlin's annexation of Ukraine's Crimea peninsula.
Vitaly Churkin was responding to his British counterpart, Matthew Rycroft, at a hearing of the UN Security Council in New York.
"I can only remind you that everything began with a coup, largely supported from outside the country," Mr. Churkin said in reference to the ousting of Ukraine's pro-Moscow president, Viktor Yanukovych, after mass protests in 2014.
"With regard to the position of the United Kingdom, I want to advise — give back the Malvinas Islands, Gibraltar, return, return you annexed part of Cyprus, return the Chagos archipelago in the Indian ocean, which you turned into a huge military base. Then your conscience can be a little more clean and you will be able to discuss other topics," said Churkin.
The words caused laughter from the new U.S. representative to the UN, Nikki Haley.
Recall that in March 2014 Russia annexed the Ukrainian Crimea, entering the Peninsula its troops and held there for illegal "referendum".
Ambassador Rycroft claimed that Russia had triggered the Ukraine crisis situation, while ambassador Haley reiterated the US position, calling for an immediate end to the Russian occupation of Crimea. Crimea is part of Ukraine said the US ambassador.