Aquazul: a giant squid sausage with more protein and less fat rich in Omega-3
Wednesday, March 1st 2017 - 21:11 UTC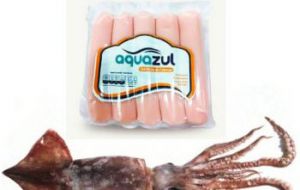 A new unique food product was created by scientists at the Center for Research in Food and Development (CIAD) of Mexico: a protein-rich squid sausage and omega 3, which has up to 70% less fat, in addition to natural dyes and preservatives.
Under the name Aquazul, this competitive product in quality and price in premium line sausages is ideal for people with a special diet for children and gourmet market.
The sausage is made from muscle giant squid (Dosidicus gigas) and is currently in a first stage of marketing in meat boutiques in the city of Hermosillo, following a collaboration agreement between this public research center and the Rancho Group The 17.
After eleven years of innovation, a group of researchers managed to add value to this mollusk that is characterized by its high nutritional content, as it offers vitamins A, B and D, easily digestible proteins, and taurine, an amino acid that suppresses the accumulation of Cholesterol in the body.
This achievement represents a sample of the technological and innovation development achieved by CIAD's Fisheries Biochemistry and Quality Laboratory, through the team of researchers led by Juan Carlos Ramirez Suarez, which also includes Ramon Pacheco Aguilar, Susana Maria Scheuren Acevedo, Guillermina Garcia Sanchez and Maria Gisela Carvallo Ruiz.
The project leader explained that Aquazul took eleven years of development and that squid was used for processing because this is a highly commercialized species in the region and an abundant source of protein. (FIS)