Falklands/UK RAF air bridge called at Brazilian airports, claims Argentina
Thursday, March 2nd 2017 - 07:17 UTC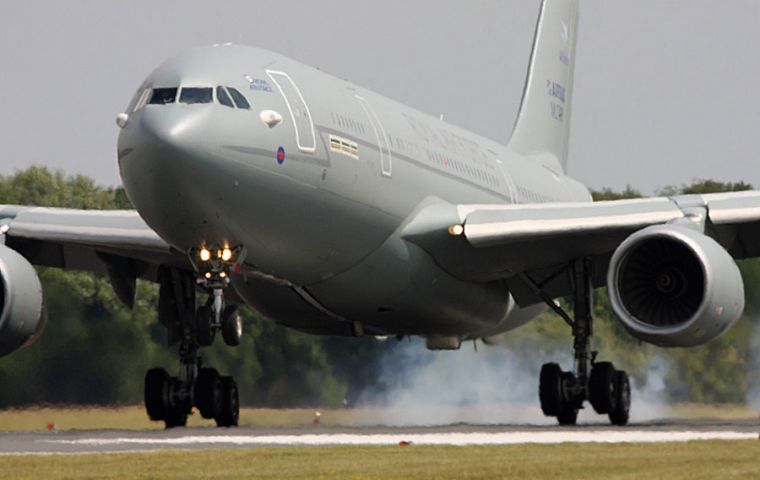 At least six Royal Air Force flights linking UK with Falklands' MPA, during 2016, called at Brazilian airports, claimed the Argentine foreign ministry Malvinas Desk based on information supplied by the country's Air Traffic Control office.
According to a Wednesday release from the Foreign ministry, the Argentine embassy in Brasilia was instructed to contact their Brazilian peers to express their concern regarding such a situation.
The release also mentions the fact that there is a Brazilian commitment not to allow its airports or ports to receive British military aircraft or vessels posted in the disputed South Atlantic archipelago in concordance with Mercosur and Unasur positions.
"The Brazilian foreign ministry reaffirmed its support for Argentina's position in the Malvinas question, but also admitted not having knowledge of such flights, and promised to make the pertinent consultations with the Defense ministry".
Likewise similar contacts were made with the Brazilian embassy in Buenos Aires which replied in similar terms to Brasilia, pointing out it must have been because of humanitarian issues or emergencies as a result of technical problems.
According to Malvinas Desk archives during 2015, there were 12 similar flights by the RAF calling in Brazil and which were detected by the Argentine Air Force. At the time Ambassador Daniel Filmus made similar contacts with the Brazilian embassy in Buenos Aires, and so did the Argentine representation in Brasilia.
However "in both cases replies were similar to those during January 2017", concludes the release.