Macri claims Falklands' sovereignty, emphasizes dialogue and strategic alliance with Brazil
Thursday, March 2nd 2017 - 08:46 UTC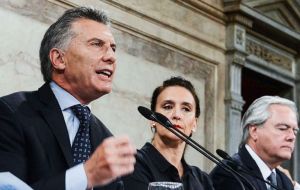 President Mauricio Macri during the opening of a new legislative session on Wednesday renewed Argentina's sovereignty "legitimate claim" over the Malvinas, Georgia and South Sandwich Islands but also emphasized that "dialogue strengthens our position" in the dispute with the United Kingdom.
"Dialogue strengthens our position and allows us to get closer to a definitive solution to this prolonged dispute", argued Macri at the end of his long speech to the joint houses assembly in which he underlined that "mature and pragmatic relations with all countries of the world" is the essence of his administration's foreign policy.
"This is the path to advance in our interests, including our legitimate claim of the Malvinas, Georgia and South Sandwich Islands"
Argentina has become a growing protagonist in the region and in the world, and is beginning to be recognized for its successes, for its virtues, and nor for its defects, continued Macri.
The Argentine president underlined the blessings of living in a zone of peace, "thanks to the strategic alliance with Brazil and Mercosur, which is more than a trade platform".
"We solved pending problems with Mercosur and countries of the region and we have started to think in the challenges of the future. We established mature and pragmatic relations with all countries in the world: we received the visit of dozens of heads of state and government, among them the five that make up G7", pointed out the Argentine leader.
Macri added that this year Argentina will organize the World Trade Organization conference and the regional meeting of the World Economic Forum. And next year will be hosting G20, one of the most relevant forums in the world.
More specifically on the Falklands and UK, it must be remembered that foreign minister Susana Malcorra recently met in Berlin with foreign secretary Boris Johnson and "addressed" all the issues of the road map from the bilateral agenda including trade plus flights, fisheries and hydrocarbons referred to the South Atlantic and the Falklands/ Malvinas.
Foreign secretary Johnson is expected in Argentina sometime later this year and the Argentine British Chamber of Commerce is preparing for the largest business delegation to visit the UK in two decades, scheduled for 20/24 March.