Kirchner family in court: Florencia, Maximo and Cristina charged with corruption and money laundering
Monday, March 6th 2017 - 17:25 UTC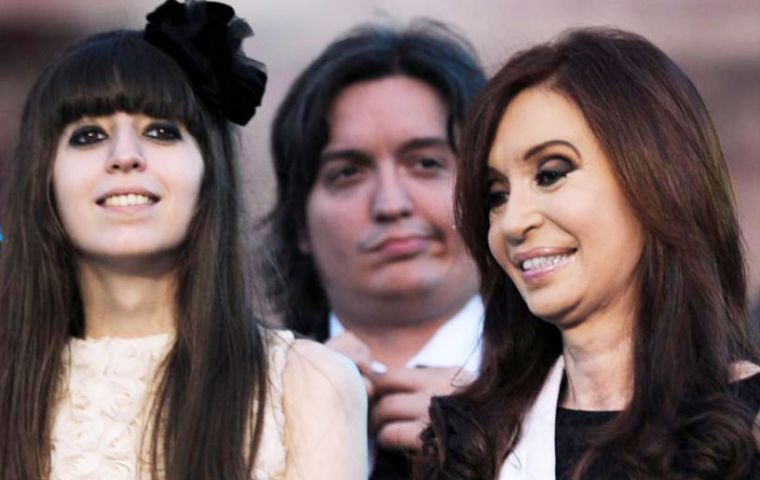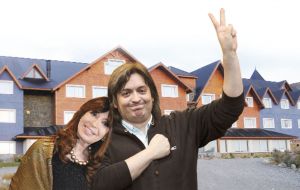 The two children of Argentine ex president Cristina Fernandez, Florencia and Maximo Kirchner, showed up in court on Monday morning to be questioned on a case involving a family company which owns several hotels and allegedly has been involved in money laundering and unlawful association among other crimes.
On Tuesday Cristina Fernandez is scheduled to be questioned by Judge Claudio Bonadio, which she tried to recuse, on the same case which is identified as Los Sauces, the company which figures as owner of the hotels located in Santa Cruz province.
Both Florencia and Maximo refused to be questioned, presented written statements and left after a few minutes. The court building in Buenos Aires was double fenced and protected by 700 law enforcement officers since a political rally in support of the Kirchner children was organized in the surroundings.
Florencia arrived at the court at 08:40 and an hour later Maximo. Florencia was accompanied by her solicitor Carlos Beraldi, the ex head of intelligence and a close friend of the family, Oscar Parrilli and Kirchnerite lawmaker Eduardo De Pedro.
Last Friday Judge Bonadio agreed that Florencia was not to be detained while the case is under consideration. Allegedly in her written presentation Florencia argues that the case against her is "absurd" since it all happened when she was only twelve.
Maximo is an elected member of Congress so he is protected from any arrest unless the legislative votes to suspend that privilege.
The Kirchner family face charges of unlawful association, money laundering, activities incompatible with public office, involving the Los Sauces hotels, which were rented out to two close business associates of the family, Lazaro Baez, a major public works contractor, currently jailed and facing trial, and Cristobal Lopez, a gambling tycoon who is also under investigation for tax evasion and elusion. Both were very close friends of the former Nestor Kirchner and allegedly paid back favors by hiring all of the hotels rooms for years, although they remained mostly empty.
The Kirchner children are involved in the Los Sauces case since the death of their father Nestor. Originally the company belonged to the Kirchner couple with a minimum participation of Maximo. But following the death of the ex president, shares were split evenly among the three family members, Cristina, Maximo and Florencia.
Judge Bonadio is convinced that the Los Sauces was used to collect "licitly" money from public contracts awarded to Baez and gambling licenses to Lopez. The three Kirchner family members have had their assets inhibited and Florencia is charged with having received the equivalent of a quarter million dollars, in Argentine pesos from the company. This was part of the six million dollars which were found in a coffer bank to her name which had been transferred by her mother Cristina.
With this last round of hearings, including Cristina Fernandez on Tuesday, Judge Bonadio is expected to sentence sometime in the next ten days.