RAF Hercules en route to the Falklands, photographed at Porto Alegre airport
Tuesday, March 7th 2017 - 07:36 UTC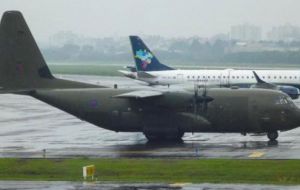 A Royal Air Force Hercules was photographed at the Porto Alegre international airport in August last year when it called allegedly for refueling, en route to the Falkland/Malvinas islands, according to the Rio Grande do Sul main daily Zero Hora. The photo from Centeno Mendes, was published following Argentina's official concern to Brasilia regarding 18 RAF calls in Brazilian airports, in the last two years.

Porto Alegre is the capital of Rio Grande do Sul, Brazil's most southern state bordering with Uruguay and Argentina. The picture at the Salgado Filho airport of the RAF Hercules C 5, was taken on 29 August 2016 at 14:45 hours. The RAF identification was ZH882.

Zero Hora recalls that during the 1982 conflict, despite Brazilian declared neutrality, British aircraft fuelled in Brazilian airports. Likewise ex PM Margaret Thatcher is said to have stretched her legs on Brazilian tarmac when her surprise visit to the Falklands in 1983.

Brazil officially has yet to reply to Argentina's concern and so far has said that the ministry of defense is looking into the matter and so has instructed the Brazilian Air Force.

Argentina's embassy in Brasilia was instructed to express concern to the Brazilian foreign ministry about the matter, allegedly involving UK military aircraft calling at local airports en route to MPA in the Falklands. The information was provided to the Argentine Malvinas Desk by the Argentine Air Force.

Brazil's first reply was to reaffirm the country's support for the Malvinas question and Argentina's claim, as indicated by Mercosur and Unasur, and admit it had no idea of such flights but would consult the ministry of defense.

Zero Hora said that neither the Brazilian defense nor foreign ministries denied the veracity of the picture published in their edition.