Brazil awards European groups 30 year concession of four airports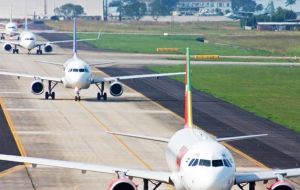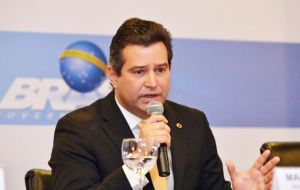 Brazil awarded three European groups on Thursday the rights to operate four airports, drawing nearly double the minimum bids at an auction that underscored investors' appetite for a new wave of privatizations under President Michel Temer. German airport operator Fraport AG, French group Vinci SA and Zurich Airport bid a combined 1.46 billion reais (US$470 million) for the rights to run airports in Porto Alegre, Salvador, Fortaleza and Florianopolis.
The companies committed to investing at least 6.61 billion reais in the airports and to paying the government an additional 2.26 billion reais in operating fees over the next 30 years.
The privatizations will help Temer's government to narrow a budget deficit that topped 9% of GDP last year and to spur the infrastructure investments that he is counting on to lift Brazil's economy from its worst recession in more than a century.
"We have won back international credibility," Temer said on Twitter, celebrating "success in the airport auction." Brazil has also promised auctions of offshore oil fields, public utilities, railroads and highways this year.
The airports auctioned on Thursday account for 11.6% of passenger traffic in Brazil, according to civil aviation authority ANAC.
Fraport won the rights to operate the Fortaleza and Porto Alegre airports, with bids of 425 million reais and 291 million reais, respectively. The company said it expected the operations to contribute 350 million euros (US$376 million) to the group's earnings before interest, taxes, depreciation and amortization over the next five years.
Zurich won the operating license for the Florianopolis airport with a bid of 83 million reais, and Vinci took the concession for the airport in Salvador - a tourist destination in Brazil's northeast - for 661 million reais.
"The auction was a resounding success," said Transportation Minister Mauricio Quintella, highlighting the private investment without subsidized financing from state development bank BNDES, which had played a key role in airport privatizations in 2013.
Domestic air travel in Brazil fell 5.7% last year, the first drop since 2003, as the deep recession and increasingly expensive fuel imports battered the airline industry.