Falklands includes a new island in its EEZ with UN support
Friday, March 31st 2017 - 04:55 UTC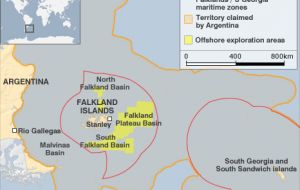 The Falklands have added a new island. A representative of the United Nations Commission on the Law of the Sea, Lithuanian geologist Professor Loof Lirpa, has confirmed to Penguin News that a new island has emerged in the South Atlantic Ocean, about 150 miles north of Steeple Jason.
The as yet unnamed island is just within the Falkland Islands Exclusive Economic Zone (EEZ), and a 200-mile circumference extension to the zone has been agreed with the UN.
This area contains rich fishing areas, with potential for huge hydrocarbon reserves.
Professor Lirpa confirmed that it is not unusual for new islands to emerge, but normally this is near active volcanic regions, for example around Iceland or Hawaii. However, Professor Lirpa feels that the increased seismic activity during recent oil exploration, with hundreds of small explosions on the seabed, has ruptured and tilted the seabed by 90 degrees until it has just emerged above the surface of the ocean.
The island first emerged about six months ago, but news of its appearance has been a closely guarded secret until its exact position could be confirmed. A source said: "It's tricky to get there, as it is at the extreme range of helicopters, and there is no flat land for planes to land on. So, there will be difficulties in terms of planting a flag by that route; a landing by zodiac might be the answer. This could take place quite shortly, potentially by April 1". (Penguin News)