Bertone invites Falkland Islanders to become Tierra del Fuego citizens
Monday, April 3rd 2017 - 10:33 UTC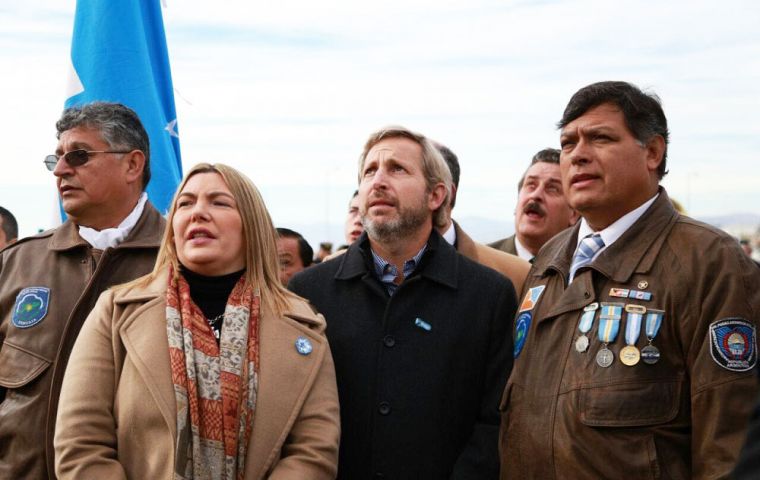 Tierra del Fuego governor Rosana Bertone called the Falkland Islanders "fueguinos" and invited them to integrate based on respect for "cultural diversity". Ms Bertone was addressing the crowd on Sunday at the Malvinas Fallen monument in Ushuaia on Sunday, 35th anniversary of the Argentine military invasion of the Falklands and which according to the local calendar is the Malvinas Veterans and Fallen Day.
Governor Bertone argued that she was entitled to make the invitation since under the Argentine constitution she is the governor of Tierra del Fuego, South Atlantic Islands and Antarctica Territory.
"We are all 'fueguino citizens' and I call on the Islanders to integrate, based on respect for cultural diversity. We are and will be respectful of the culture and customs of everybody. But this plurality which characterizes Tierra del Fuego and Argentina as a nation can't question the territorial integrity since its legitimacy and legality are absolute truths", underlined the governor.
Further on Bertone said that currently "there is no country on earth that supports the UK in its colonialist intents over the Malvinas Islands", and described the XXI century colonialism as "an offence to all Latin American nations".
"We call on the British government and people that, as Pope Francis teaches us, we should commit ourselves to build bridges, it's time to abide US resolutions and form all those organizations calling for dialogue and which reject anachronism and unfair colonial possession".
The governor also called on the federal government to continue with its firm policy addressing all international institutions and forums, reaffirming our historic position and rights, we must multiply all these policies in all Unasur members.
Finally Bertone recalled that the April vigils were the natural spontaneous replies of the Veterans to the attempts by different governments to "deMalvinize" the sacrifice and effort of so many Argentines. "This flame was ignited by the Veterans in the hearts of the people and of a whole nation, and has made of April 2 an unmovable imprint of Argentine identity".