FIH independent directors still view Dolphin takeover approach as "unwelcome"
Tuesday, April 4th 2017 - 10:10 UTC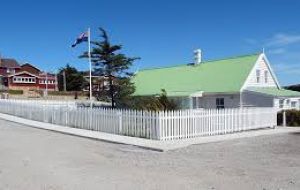 FIH Group PLC said on Monday it still views a potential takeover approach from Dolphin Fund Ltd as "unwelcome" and recommends an existing bid from Staunton Holdings Ltd.
FIH's independent directors said they continue to see an engagement with Dolphin as "inappropriate and damaging", due to the fund's ownership by an Argentine citizen and the possibility of undermining its business in the Falkland Islands. As such, they refuse to provide Dolphin with information on FIH.
Argentina claims the Falkland Islands, which are a British Overseas Territory over which the two countries fought a war in 1982. FIH, formerly called Falkland Islands Holdings, owns the Falkland Islands Co, Portsmouth Harbour Ferry Co and art transport and storage service Momart.
FIH said it continues to recommend Staunton's 300.0 pence a share bid for the company, despite Dolphin's indications it is considering making an offer for the company at 333.3p a share. Dolphin is yet to make a formal takeover approach for FIH.
Shares in FIH were up 0.2% at 303.00p Monday afternoon.
Follows the response to Dolphin Fund Limited's update on its possible offer for FIH
"Referring to the announcement of an "update on possible offer for FIH" released by Dolphin Fund Limited ("Dolphin") at 5.43 p.m. on 31 March 2017, the Independent Directors of FIH, John Foster and Jeremy Brade (the "Independent Directors"), wish to clarify their position regarding Dolphin's unwelcome approach and remind shareholders of Staunton Holdings Limited's ("Staunton") recommended offer which is open for acceptance until 1.00 p.m. on 5 April 2017.
"Dolphin's possible offer
"Dolphin has on two previous occasions announced that it is considering making a "possible offer for FIH". In this regard the Independent Directors have made Dolphin via its advisers aware of the following concerns regarding its approach:
"Given recent history and the sensitivities surrounding the Falkland Islands, there is real and understandable concern in Stanley about any Argentine backed attempt to own assets or to exercise control over businesses in the Islands. The fact that The Falkland Islands Company ("FIC") is an iconic institution, and has been part of the cultural fabric of the Islands for over 165 years, has only heightened the concerns of politicians and local people;
"the Falkland Islands Government ("FIG") has the power to grant or withhold licenses to own assets and land in the Islands. FIG has stated that it is closely monitoring the situation and will scrutinize any proposed change of ownership for compliance with Falkland Islands Law.
"Furthermore the Independent Directors believe that, notwithstanding its statement of well-intentioned aims, Dolphin not having engaged with the people and Government of the Falkland Islands to secure local support for its future plans, and not having demonstrated unequivocally that its approach would not be detrimental to the value of FIC, it would be inappropriate and damaging to FIH to engage with Dolphin.
"Accordingly, as Dolphin's approach is seen to pose a hazard to FIH, the Independent Directors will not (and are not required to) provide Dolphin with information on FIH and are not prepared to enter into discussions with Dolphin.
"The statements made by Dolphin do not constitute an offer in contrast to the firm cash offer of 300 pence per share made by Staunton, which has been recommended unanimously by the Independent Directors. This recommendation of 10 February 2017 was made after due reflection and after taking detailed advice from professional advisers. The recommendation has since been continually reviewed, including by a second independent investment bank, and the Independent Directors confirm the recommendation and their view that the offer represents fair and appropriate value for FIH Shares and provides a genuine opportunity for FIH Shareholders to monetize their investment".