Spain surprised by tone of UK comments on Gibraltar; CM Picardo critical of EU Council president Tusk
Tuesday, April 4th 2017 - 07:20 UTC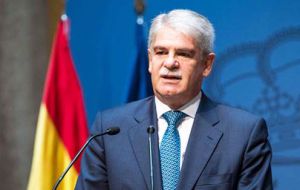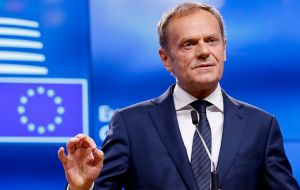 Spain's Foreign Minister Alfonso Dastis called on Tuesday for calm in the row over Gibraltar's inclusion in the EU guidelines, adding that he was surprised by the reactions in Britain. He was speaking amid a media frenzy after the EU said in its guidelines that Spain must agree before any future trade deal between the UK and the EU can be extended to Gibraltar.
Politicians and newspapers in the UK reacted furiously to the development, with former Conservative leader Lord Howard suggesting on Sunday that Prime Minister Theresa May would even be prepared to go to war with Spain over the Rock, just as Britain did with Argentina over the Falkland Islands 35 years ago.
"The Spanish government is a little surprised by the tone of comments coming out of Britain, a country known for its composure," Dastis said. "I think some people in the UK are losing their temper but there's no need for that."
Chief Minister Fabian Picardo was critical of European Council president Donald Tusk for allowing Gibraltar's inclusion in the EU draft guidelines. "Mr Tusk, who has been given to using the analogies of the divorce and divorce petition, is behaving like a cuckolded husband who is taking it out on the children," Mr Picardo said.
"We are not going to be a chip and we are not going to be a victim of Brexit as we are not the culprits of Brexit: we voted to stay in the European Union so taking it out on us is to allow Spain to behave in the manner of the bully."
Mr Picardo said the EU should remove the reference to Gibraltar from the draft guidelines. "Removal of the reference to Gibraltar would be a sign of good faith and good will," he said.
Britain's Foreign Minister Boris Johnson, speaking to reporters this morning, repeated the UK's sovereignty commitment to Gibraltar.
"I think the position of the [UK] government is very, very clear, and that is the sovereignty of Gibraltar is unchanged and it's not going to change, and it cannot conceivably change without the express support and consent of the people of Gibraltar and the United Kingdom," he said. "That is not going to change."
A Downing Street spokesperson confirmed Prime Minister Theresa May had called the Chief Minister on Sunday, saying "we will never enter into arrangements under which the people of Gibraltar would pass under the sovereignty of another state against their freely and democratically expressed wishes, nor will we ever enter into a process of sovereignty negotiations with which Gibraltar is not content."
Mrs. May said they remain absolutely dedicated to working with Gibraltar for the best possible outcome on Brexit, and will continue to involve them fully in the process.