Chilean salmon sold in Buenos Aires revealed high contents of antibiotic residue
Wednesday, April 12th 2017 - 10:27 UTC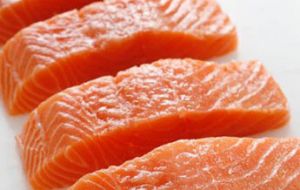 A study performed by the Institute of Technology of UADE Foundation found that 66% of the salmon fillets imported from Chile that are marketed in the fish farms of the City of Buenos Aires contain remains of antibiotics "that can affect the health of those who consume it ".
Salmon is one of the most consumed fish and is associated with positive properties to counter cardiovascular disease, decrease "bad" cholesterol levels and normalize triglycerides.
The study reveals that Chilean salmon (Oncorhynchus kisutch) "have antibiotic residues above the limit allowed by the International Codex Alimentarius (Codex Alimentarius) and may have negative consequences on the health of those who eat them."
The researchers who participated in the study analyzed samples of more than 100 products from 38 shops in the City of Buenos Aires and found that "66% of the cases has flumequine remains and, mainly, oxytetracycline hydrochloride, both compounds of the antibiotics used in salmon farms to counteract the diseases that cause their deaths."
The study authors point out that unintentional consumption of drugs through residues present in the food that we eat "can generate a selection of bacteria resistant to antibiotics, which in the future will be more complicated to remove from the body and will counteract the effects of the medicine so that the person affected would be more prone to contracting diseases."
The largest amount of salmon consumed in Argentina "is imported fresh from Chile whose industry is extremely relevant to the point that it has become the second largest producer of this fish, after Norway," the study said.
The researchers reported that data were collected "year-round" and found "positive results in 77% of the cases analyzed in summer, 63% in spring and 41% in winter." (FIS)