Cristina Fernandez invited to give a conference at Oxford University
Thursday, April 27th 2017 - 10:54 UTC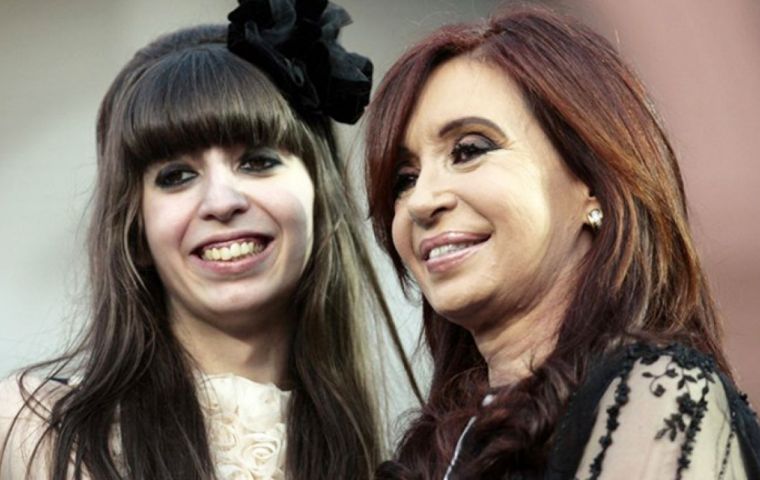 Ex president Cristina Fernandez and her daughter Florencia Kirchner, both indicted in several alleged corruption cases have been allowed to travel to Europe in May, where the Argentine leader has been invited to a round of conferences and discussions including one from the Oxford Union at Oxford University.
According to court sources Judge Claudio Bonadío with the support from the Prosecution Office authorized the former president and her daughter to be absent from Argentina between May 5 and 19. However they must make a deposit of approximately US$ 10.000 each, and in the following 48 hours after their return, must show up in court.
The ex president (2007-2015) and her two children, Florencia and lawmaker Maximo are banned from travelling overseas because they have been indicted for allegedly leading a criminal association involved in money laundering and in privileging public works contractors.
In her presentation Cristina Fernandez argues that she has always turned up in court when summoned and has given a detailed agenda of her trip, motives and invitations for a round of conferences.
According to the agenda, Cristina and Florencia will remain in Athens from 6 to 9 May, where they will meet Prime Minister Alexis Tsipras and Speaker of Parliament Nikos Voutsis, as guests of the ruling Radical Left ruling coalition, Syriza.
The visit to Belgium will last from May 9 to 12. In Brussels the former president will meet with left wing and progressive lawmakers, give a few speeches and participate in a debate on social and human rights in Argentina and the region, and the role of the European Union in that context.
Finally from May 12 to 18, Cristina Fernandez will visit London, where invited by The Oxford Union is scheduled to give a conference at the University of Oxford.
So far Cristina Fernandez who considers herself a victim of political, media and courts' persecution has been indicted in three main cases: one related to the Central Bank and the sale of future dollars and another two involving awarding public works contracts to family friends and money laundering.