Falklands/Malvinas: Argentine Air Force recalls 35th "Baptism of Fire" in May 1982
Tuesday, May 2nd 2017 - 05:47 UTC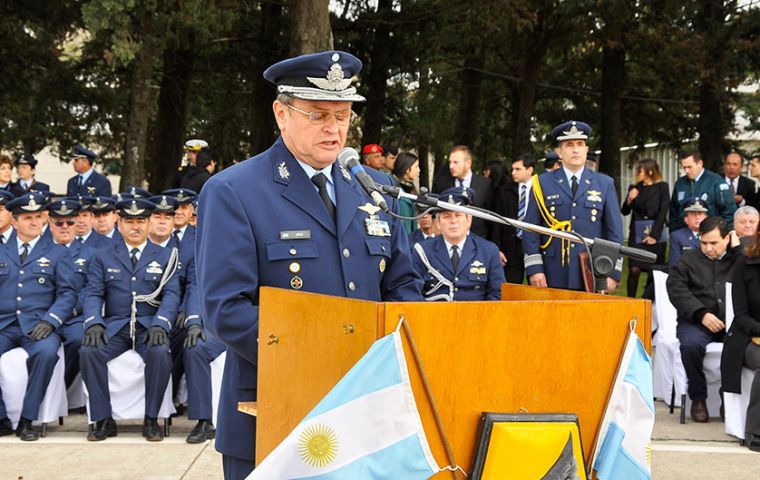 Argentina's Air Force commemorated with a parade and display of force the 35th anniversary of its ''Baptism of Fire", which occurred on May first 1982 when Argentine fighters completed over 50 sorties in an attempt to repeal the British Task Force sent to recover the Malvinas Islands.
However speeches at El Palomar Air Brigade I were prudent arguing that even when recovering the Falklands/Malvinas is a permanent goal for Argentina and its Air Force, it will be achieved through "dialogue and diplomacy".
The ceremony was headed by the Air Force Chief of Staff, Brigadier General Enrique Victor Amrein together with the head of the Joint Forces Chief of Staff and commanders of the other forces, Defense officials, national and local authorities, military personnel and special guests.
"The battle for our sovereignty must take place in international forae, with dialogue and diplomacy", said Brigadier General Amrein adding that the force´s motto is "to defend the motherland, yesterday, today and always".
A fighter pilot during the 1982 conflict, Amrein recalled his comrades "who had the courage and will to defeat Britain during the 1982 conflict".
In effect on May fist, Vulcan bombers and Sea Harriers begun to bomb Stanley and Darwin landing strips, but Argentina which had invaded and occupied the Falklands by force in 2 April, reacted by sending bombers and fighters to combat the British effort.
According to the Air Force, 57 sorties were completed and 20 tons of bombs dropped, but also the first Argentine Air Force members to lose their lives in combat were recorded.
Both sides experienced heavy losses, and by the end of the conflict June 14, Argentina, had lost most of its aircraft and 55 airmen, mostly pilots.
During the ceremony retired Brigadier Norberto Dimeglio, Malvinas veteran and pilot of a Mirage V Dagger from the first squadron to make contact with the British, spoke recalling the first day of combat and fellow pilots.
Retired Brigadier Eduardo Daghero then read the roll call of pilots and those killed in combat, which was followed by a minute of silence.
A fly-past of a Hercules C-130 and several A-4AR Fighting Hawk, and the parade of several hundred personnel closed the ceremony.