Falklands fisheries: Galicia fleet analyzes impact of Brexit
Wednesday, May 10th 2017 - 08:23 UTC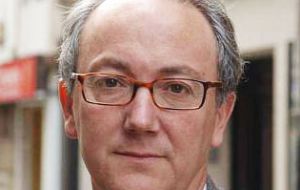 The future of Galician fishing after "Brexit" could generate "very harmful" measures in the field of fish imports from a fisheries that is as wealthy and important for the Galician fleet as that of the Falkland Islands.
This was pointed out by Jose Manuel Sobrino Heredia, a professor at the University Institute of European Studies Salvador de Madariaga and responsible for producing a report on the effects of the exit of the United Kingdom from the European Union, who believes that the situation of the Islands "perhaps makes it uncompetitive to bring fish from there," reported Faro de Vigo.
In the framework of the Galicia Maritime Forum (FOGAMA) held in Vigo, Sobrino said that there will be a need to negotiate an agreement or transitional measures to regulate this trade from the Islands and from the United Kingdom, since if by March 2019 - indicated as the "critical date" for signing the exit treaty - it has not been reached, "tariff and contingent measures will be very harmful for companies."
"The United Kingdom will be a third state," he stated, adding that "the European institutions are warning" that the British islands will try to "bilateralize the problems of directly negotiating the issues country-by-country".
Likewise, the issue of how to settle disputes between the companies and the country was also addressed because at the time of Brexit, the Court of Justice of the European Union (CJEU) and the world courts (such as the WTO) will not be recognized or be thought to settle contingencies between a company and a state.
Likewise Sobrino explained that "it is likely that in FAO and in regional fisheries organizations such as NAFO or the Commission for the Conservation of Antarctic Marine Living Resources (CCAMLR), the UK becomes allied with countries such as Australia, New Zealand or Canada, with which it will gain weight."
On the other hand, Sobrino recommended not to close to the idea that Brexit is "a threat", since in his opinion "opportunities are generated", and recalled that the main "weapon" is to have the "market".
"They are interested in having an agreement with us like the one that Greenland has with the EU", since the United Kingdom "needs to sell us fish and that is our asset," he concluded. (FIS).