Argentina's 12-month inflation through April was 27.5%
Thursday, May 11th 2017 - 12:07 UTC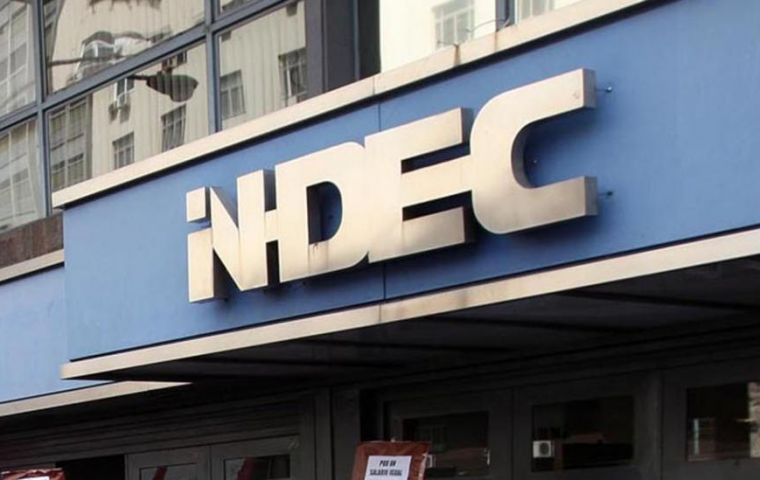 Argentina's statistics agency Indec, said on Wednesday 12-month inflation through April was 27.5%, the first time it has published 12-month inflation since President Mauricio Macri took office in December 2015 and revamped data calculations. Indec said April inflation was 2.6%, above median analyst expectations for a consumer price increase of 2.1 percent.
Argentina's central bank raised its benchmark interest rate to 26.25% on April 11, citing higher inflation expectations. The bank held the rate steady on Tuesday and said April inflation would be higher than desired but rise at a slower pace in May.
The bank is targeting 12-month inflation of 12 to 17% for the end of the year, though the latest central bank survey of economists puts it at 21%.
Clothing prices rose 5.1% in April, while housing and basic services were up 4.6%, Indec said. Consumer prices rose 9.1% overall in the first four months of the year.
Indec has been publishing inflation for Greater Buenos Aires, but in July will debut a national index the central bank will use to formulate monetary policy.
The inflation index will cover all 23 Argentine provinces and the autonomous city of Buenos Aires, and will break out inflation levels in six regions, Indec said in a statement. The first report will be published on July 11, and the agency will give details on its methodology on May 18.
As part of the overhaul at Indec, the agency stopped publishing inflation data for the first few months of 2016 to refine methodology, meaning Argentina has lacked 12-month data until now.
Indec was widely accused of publishing unrealistically low inflation data under former President Cristina Fernandez. The International Monetary Fund recognized Argentina's efforts to restore credibility to its official statistics when it lifted its censure of Indec last November