China convenes 29 world leaders to launch its Silk Road plan to forge peace and free trade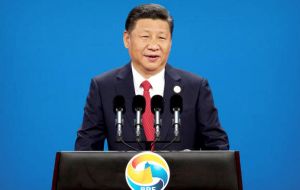 Chinese President Xi Jinping pledged US$124 billion for his ambitious new Silk Road plan to forge a path of peace, inclusiveness and free trade, and called for the abandonment of old models based on rivalry and diplomatic power games.
Beijing has peddled what it formally calls the Belt and Road initiative as a new way to boost global development since Xi unveiled the plan in 2013, in what has become the most important diplomatic event of the year with the attendance of 29 world leaders.
One Belt One Road, OBOR aims to expand links between Asia, Africa, Europe, Latin America and beyond underpinned by billions of dollars in infrastructure investment. The initiative spans some 65 countries representing 60% of the world population and around a third of global GDP. The China Development Bank has earmarked US$890 billion for some 900 projects.
"We should build an open platform of cooperation and uphold and grow an open world economy," Xi told the opening of the summit. Xi said the world must create conditions that promote open development and encourage the building of systems of "fair, reasonable and transparent global trade and investment rules".
"Trade is the important engine of economic development," Xi added, pointing out that the world must promote the multilateral trade system, the establishment of free trade regions, and the facilitation of free trade.
Xi pledged a massive funding boost to the new Silk Road, including an extra 100 billion Yuan (US$14.50 billion) into the existing Silk Road Fund, 380 billion in loans from two policy banks and 60 billion Yuan in aid to developing countries and international institutions in new Silk Road countries.
In addition, Xi said China would encourage financial institutions to expand their overseas Yuan fund businesses to the tune of 300 billion Yuan. Xi did not give a timeframe for the new loans, aid and funding pledged at the summit. Leaders from 29 countries are attending the forum, which China formally calls the scheme in English the Belt and Road initiative.
China has rejected criticism of the plan and the summit, saying the scheme is open to all, is a win-win and aimed only at promoting prosperity.
"What we hope to create is a big family of harmonious co-existence," Xi said, adding pursuit of the initiative will not resort to outdated geopolitical maneuvering. "What we hope to achieve is a new model of win-win cooperation."
Latin America was represented at the forum by Argentina and Chile, with both Mauricio Macri and Michelle Bachelet attending the Beijing summit.
Xi focused his speech on his initiative, boasting that it represented a "road for peace" and a way to "forge partnerships of friendship rather than alliance". But he cautioned "all countries should respect each others' sovereignty... and territorial integrity".
He defended globalization at a time when Trump has vowed to put "America First" when it comes to international trade and relations.
Europe, meanwhile, is mired in Britain's looming EU exit. While the prime ministers of Spain, Greece and Italy accepted the summit invitation, German, British and French leaders stayed home. Xi warned that "isolation results in backwardness".
OBOR not only is a huge influence promotion for China and its geopolitical ambitions in Asia, but also is seen as a practical solution to relieve China's industrial overcapacity.