Seism in Brazil: Temer could soon be joining Rousseff at the removed ex presidents' club
Thursday, May 18th 2017 - 09:03 UTC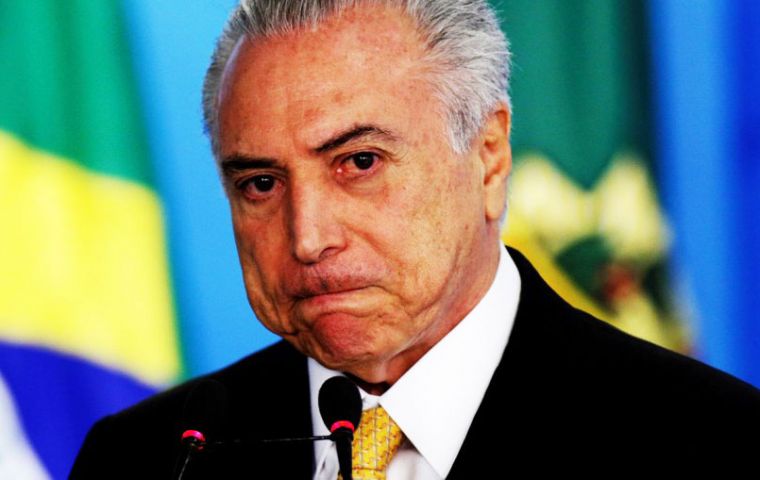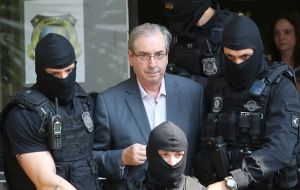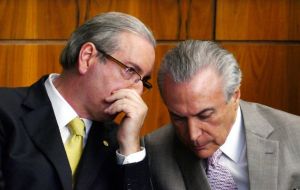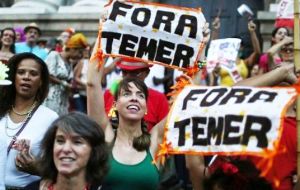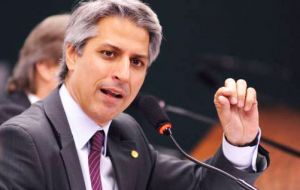 Brazil's President Michel Temer faced calls for his removal Wednesday after a newspaper reported that he had been recorded discussing payments of hush money to a corrupt politician. Temer immediately denied the report in O Globo newspaper.
According to the report, which could not be immediately verified, an executive from the meatpacking giant JBS, Joesley Batista, met with Temer on March 7. During the meeting, the report said, Batista recorded himself telling Temer that he was paying money to buy the silence of disgraced ex-speaker of the lower house Eduardo Cunha.
Cunha is in prison after having been found guilty of taking millions of dollars in bribes in Brazil's giant Petrobras oil company embezzlement scandal. According to the account, Temer told Batista: "You need to keep doing that."
Temer's office issued a statement saying: "President Michel Temer never solicited payments to obtain the silence of former deputy Eduardo Cunha."
Globo did not say how it got the information about the recording, which it said was offered in a plea bargain between Batista and his brother Wesley with prosecutors.
Temer took over last year after the impeachment of president Dilma Rousseff, a political earthquake to a large extent engineered by the then-powerful Cunha. There were immediate demands late Wednesday from leftist opponents for Temer's removal. The Workers' Party issued a statement also naming five other parties that called for his resignation and snap elections.
Several hundred anti-Temer protesters gathered in Sao Paulo, while in the capital Brasilia motorists honked horns and yelled "Temer out!"
Congressman Alessandro Molon, from the Rede party, filed a demand for impeachment with the speaker of the lower house, Rodrigo Maia.
Maia would have to accept the demand for proceedings to start, made no comment to reporters as he left for an emergency meeting with the government, Globo reported.
In Sao Paulo, Workers' Party state lawmaker Beth Sahao said that the report confirmed what opponents had been waiting for: "Concrete evidence of corruption in the Temer government, but especially of the person of President Temer himself."
The allegations in O Globo, which is part of the most powerful media group in Latin America's biggest country, were a new shockwave from a corruption scandal tearing apart the country's political elite.
Investigators mounting what's called the "Car Wash" probe have uncovered gigantic corruption from Petrobras, with scores of politicians accused of taking bribes from executives in exchange for sweetheart contracts with the state-owned oil company.
Already a Who's Who of the elite has been imprisoned or placed under investigation. The accusations against Temer are especially explosive as he has been in power barely a year since the bitter maneuvers to push Rousseff out of office.
She was found guilty by Congress of illegally manipulating the government's accounts to mask the depth of a painful recession. On being stripped of the presidency her vice president, Temer automatically took over.
Rousseff, from the leftist Workers' Party, accused Temer and Cunha, from the center-right PMDB party, of mounting a coup.
Temer quickly set about introducing market reforms to try to get Brazil's floundering economy back on the rails. The new scandal could further undermine support in Congress for those reforms, particularly a push to raise the minimum age for retirement in an attempt to rework the costly pension system.
As to the Batista brothers, Joesley and Wesley, heirs of JBS, the world's largest meat packing conglomerate with interests in Latin America, United States, Europe and Australia, they are also in deep water.
Their company, which was born out or a small butcher shop in the fifties, faces several investigations, not only the latest referred to "rotten meat", bribing veterinary inspections, but also referred to loans from Brazil's development bank, BNDES, and the management of the pension funds of their companies in Brazil, which justice forced them to step aside.
There is also a political ingredient, not only because of the Batista brothers generous handouts to the political system in exchange for different favors, but under ex president Lula da Silva, JBS turned into a world business player with the political and financial support from the government to become the huge world's leading company in its sector.
Apparently the brothers reached an agreement with prosecutors which involved helping pin down Temer, and powerful coalition leader Aecio Neves, as part of a plea bargain.