Public opinion forces Temer to withdraw troops from streets of Brasilia
Thursday, May 25th 2017 - 20:27 UTC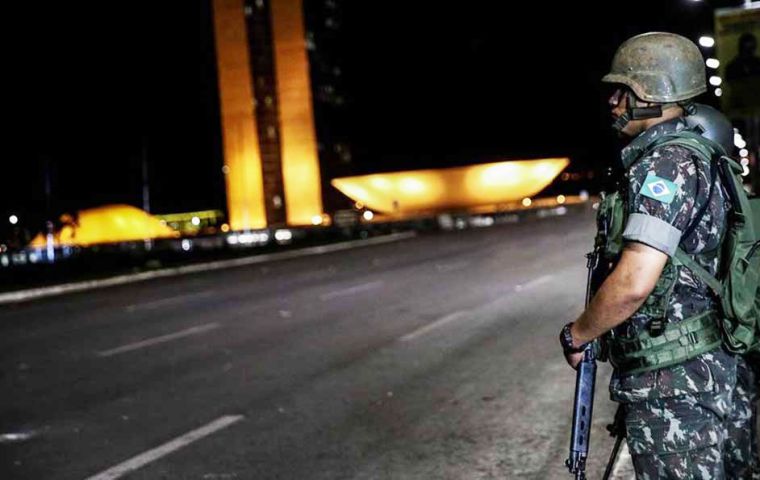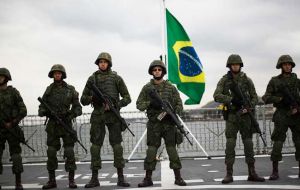 Brazil's President Michel Temer called troops back off the streets of the capital Thursday after deploying them to guard government buildings following riots by protesters demanding he quit. A decree published online in the official journal said the president had revoked an earlier measure to deploy 1,500 federal troops -- a delicate issue in a country with living memory of a military dictatorship.
Soldiers shortly afterwards began to withdraw from around government buildings which they had spent the night guarding in Brasilia. Protesters had smashed their way into ministries and fought with riot police on Wednesday in some of the most violent scenes yet in a year of political turbulence.
The deployment of soldiers shocked a capital already shaken by the day's violence and an investigation into corruption allegations against the president.
Temer earlier insisted the deployment was carried out under the constitution. But the issue of troops is sensitive in a country that lived under military rule from 1964-1985.
Conservative former vice-president Temer stepped up to replace populist president Dilma Rousseff last year. She was impeached for illegally manipulating government accounts, but said the charges were politically trumped-up. Now Temer faces impeachment requests from his own political rivals.
Critics interpreted the troop deployment as a sign of desperation by a president under pressure.
Columnist Maria Cristina Fernandes in economic daily Valor described it as "the last chance for a show of authority by a government that is finished."
Violence erupted on Wednesday after a crowd of demonstrators, estimated by police at 35,000, marched toward the presidential palace, which is flanked by Congress and the government buildings.
Most of the protesters were peaceful but small groups wearing masks threw stones at police and smashed their way into the agriculture ministry and reportedly also the culture and planning ministries.
Riot police crouching behind black shields lobbed tear gas and stun grenades into the crowd. When protesters set a fire in the agriculture ministry, employees were forced to flee, a spokesman for the ministry said.
In the lower house of Congress, the session was temporarily suspended after opposition deputies took over the speaker's podium, brandishing signs saying "Temer out."
According to a count released by authorities, 49 people were injured and seven detained in the protests.
Leftist groups and trade unions organized the protests a week after Temer was placed under a corruption probe. They are demanding his resignation and an end to austerity reforms centered on cuts to the pension system.
Temer insists the austerity reforms are already working and that more measures, especially pension reform, are needed. Stuck in deep recession for two years, Latin America's biggest economy is just now showing the first signs of returning to growth, although unemployment stands at nearly 14%.