British embassy in Santiago, a huge success during Chile's Heritage Day
Sunday, June 4th 2017 - 12:19 UTC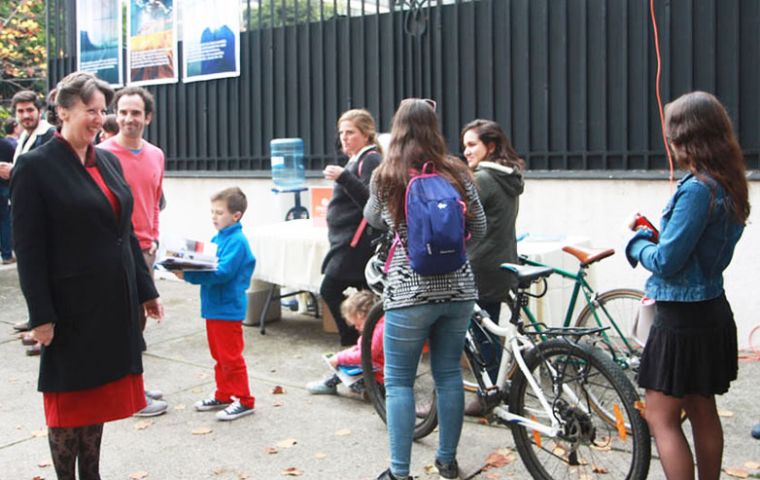 The British Embassy in Santiago participated in Chile's Heritage Day on Sunday 28 May by hosting an open doors morning at the Residence, a building of historical value located in the El Golf area, which was acquired by the British Government in 1966.
Over seven hundred people visited the Residence's garden and representational areas, joining group tours led by British Embassy staff and Tourism and Hotel Management students from the Instituto Professional Los Leones.
Ambassador Fiona Clouder greeted the visitors to the Residence, presenting the strong historic links between Chile and the UK. She also gave a talk about Maria Graham (Lady Callcott), a British writer who lived in Chile and described this experience in "Journal of a Residence in Chile during the Year 1822".
Architect Alberto Cruz Eyzaguirre built the Residence in 1938, drawing on a neo-classical style in fashion in Europe during the time. The house initially belonged to Elena Errázuriz Echeñique, considered to be one of the driving figures behind the development of the El Golf neighborhood. The gardens were designed by the German landscape architect Oscar Prager, considered to be the father of Chilean landscaping.
In 1994, the Municipal Land Use Plan of Las Condes declared the house "Historic Preservation Property", thus ensuring the protection of its heritage. The British Embassy has participated in Heritage Day for several years, enabling hundreds of people to visit the Residence.