Argentine President visits first Hercules completely remodeled in the country
Wednesday, June 14th 2017 - 02:53 UTC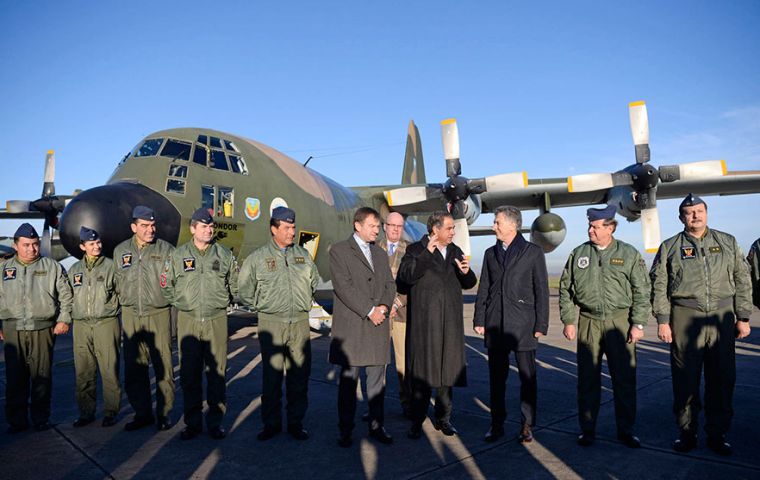 President Mauricio Macri visited the El Palomar Air Base, to inspect the first Hercules C-130 aircraft to undergo a modernisation process entirely in the country. During his tour of the base, Macri spoke with Air Force aviators who operate these aircraft in humanitarian missions worldwide.
The president was shown the details of the remodeling, escorted by the Defense Minister Julio Martínez and Air Force Chief-of-Staff Brigadier General Enrique Amrein among other high ranking military personnel.

The Argentine Aircraft FADEA Factory modernised the aircraft with dealine-oriented domestic processes adapted from specifications from the United States. The entire remodelling took 10 months to be completed and involved more than 150 highly qualified technicians and engineers. Three additional C-130s are to undergo similar remodelling in the coming months.

The aircraft registered TC-61 already completed a mission to Antarctica featuring new digital communication systems, navigation, digitization of in-cabin information , re-wiring and a new air conditioning system.
Among the humanitarian missions the C-130s are usually chosen to perform is the assistance to victims such as those of an avalanche in Jujuy in March and the April floods in Comodoro Rivadavia a month ago as well as other natural catastrophes in Ecuador and Peru.

In addition to that, the Hercules takes part in Antarctic missions thanks to its ability to operate at temperatures of minus 45 degrees Celsius. It crosses over 100 times per campaign from Rio Gallegos to the Argentine bases to bring in fuel, food and other types of supplies as well as personnel. It is also involved on a regular basis in scientific missions.