Commemorations for 35th anniversary of Liberation Day held in Falklands
Wednesday, June 14th 2017 - 16:20 UTC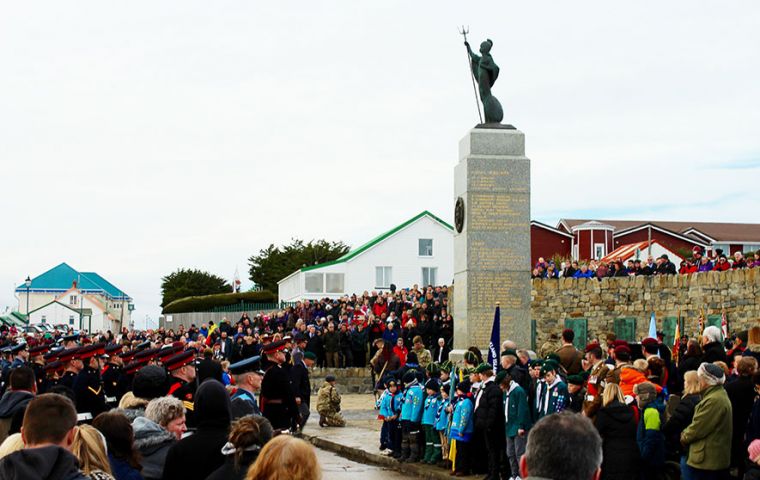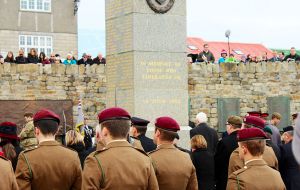 Commemorations are being held in the Falkland Islands to mark the end of the Falklands War 35 years ago today. Liberation Day, as it is officially known in the Falklands, is commemorated every year on the 14th June to mark the end of 74 days of Argentine occupation in 1982.
Today marks the 35th anniversary of the ending of the Falklands War and commemorations were held in the capital Stanley to mark the event. The 14th June anniversary of the liberation of the Falkland Islands from Argentinean occupation in 1982 is commemorated each year and is a national public holiday.
The usual anniversary events were held in Stanley this morning with a thanksgiving service first held at the Christ Church Cathedral – attended by the Governor of the Falklands, Members of the local Legislative Assembly and Commander of the British Forces – and then a ceremony at Liberation Monument, where wreaths were laid. Road closures in the centre of Stanley resulted in a different parade route to normal for troops from the Royal Navy, Army and Royal Air Force, as well as volunteer soldiers from the local Falkland Islands Defence Force and the British Army Parachute Regiment (Paras).
In addition to the members of the Royal British Legion and Associations, members of local youth groups, veterans from 1982, and the many local residents also present at this morning's events, two official guests of the Falkland Islands Government (FIG) were present; Brigadier Alastair Bruce of Crionaich and Mr David Robb, who both served in 1982.
To mark the 35th Anniversary this year a number of extra events have be held both locally and in the UK to commemorate the special anniversary year, including a photo exhibition to open in London next week and a Liberation Ball scheduled for this Friday in Stanley. A new booklet has also been produced by FIG to illustrate the development seen in the Falklands since 1982 and is expected to be available later this month.
The 1982 war, which began on April 2nd and last 74 days, cost the lives of 255 British and 655 Argentine servicemen, as well as three Falkland Islanders. The ceremonies and events held today to mark the liberation, and over the past few weeks to commemorate the many lives lost, are held in high importance by Islanders who look to express the gratitude they feel towards the servicemen and women who came to their aid 34 years ago.
FIG recently welcomed a team from the International Committee of the Red Cross (ICRC) in early June to begin humanitarian work at Darwin Cemetery, where there are 237 Argentine soldiers buried and over half - 123 - are unidentified.