Argentina: Nazi paraphernalia stash found in Buenos Aires suburb
Wednesday, June 21st 2017 - 05:08 UTC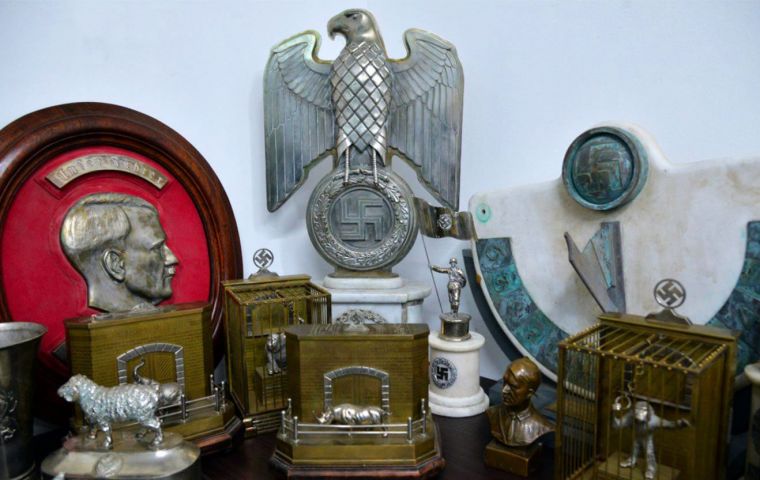 Around 75 artifacts believed to have belonged to high-ranking nazi officers, which were stashed in a private collector's home in Beccar, a suburb of Buenos Aires, were found by Argentine police. The discovery is regarded to be further proof of the presence of Nazis in South America after World War II.
Among the items retrieved were a bust relief of Adolf Hitler, magnifying glasses in boxes with swastikas, a medical device to measure head size and determine Aryan purity, toys estimated to have been used to indoctrinate children, a statue of the Nazi eagle above a swastika and a Nazi hourglass.
There seems to be no questioning the authenticity of these items, which are believed to have belonged to high-ranking Nazis in Germany during the war. The collector, whose identity has not yet been divulged, is free but still under investigation.
Argentina's Security Minister Patricia Bullrich said photos, including a negative of Hitler himself using one of the magnifying glasses were also found but not yet displayed. "This was a way to commercialize them, showing they were once used by the horror, by the Fuhrer. There are photos of him with the object," Bullrich explained. "It's part of Argentinean history and we need to get it out in the open," she added.
Ariel Cohen Sabban, president of the Delegation of Argentine Jewish Associations (DAIA), called the findings "unheard of" in Argentina. "This is irrefutable evidence that following the Second World War, the doors were open, in Argentina, for top figures of the Nazi regime to enter our beloved country."
See the video (by Bussines Insider)