Argentina: CFK to run for Senate alongside former Foreign Minister Jorge Taiana
Monday, June 26th 2017 - 03:57 UTC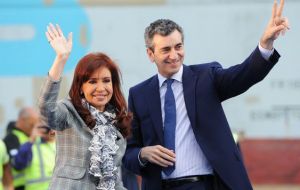 Former Argentine President Cristina Fernandez will top the Citizen Unit's Senate ticket in the province of Buenos Aires for the upcoming primary PASO elections on August 13, alongside her former Foreign Minister Jorge Taiana, it was announced.
The final decision put an end to speculations regarding a possible teamup with her former Interior Minister Florencio Randazzo, who will run within the Justicialist Peronist Party. If Randazzo makes it through the primaries (CFK will face no opposition within her grouping), a head-to-head election seems likely on October 22.
The former head of state was elected three times onto the national Senate (once from the province of Buenos Aires where she was born and twice from the province of Santa Cruz, where she became a full-time resident after marrying Nestor Kirchner, whom she eventually succeeded at the Casa Rosada).
Taiana's past as a member of the montonero guerrillas in the 1970s and his participation in the bombing of a Buenos Aires cafe that cost two lives has been resurfaced lately by local and international media.
Fernandez is very much in need of parliamentary immunity given the corruption charges against her currently under investigation by various courts, which would presumably lead to her trial and subsequent inprisonment. To that regard, she denies any wrongdoing and says the cases are politically motivated.
She had launched her new political alliance earlier last week with support from left-wing parties including Nuevo Encuentro (New Gathering), Frente Amplio (Broad Front), Victory Party (Partido de la Victoria), Compromiso Federal (Federal Commitment) and Kolina — four of which were previously part of Frente para la Victoria (Victory Front).
Randazzo's running mate will be gender violence lawyer María Florencia Casamiquela. Their fraction within the Justicialist Party chose the name Cumplir (to deliver a promise).
Political forces throughout the country submitted their lists of candidates for the Senate and the House of Deputies. Each province is to renew half of their seats in the lower house while there will be various constituencies with seats on the Senate to be at stake.
Former Economy Minister Domingo Cavallo under Presidents Carlos Menem and Fernando de la Rua will run for the lower house from his native province of Cordoba as a candidate from the "It is possible" front led by former caretaker President Adolfo Rodríguez Saa and his brother Alberto of San Luis.
President Mauricio Macri's ruling PRO alliance will try to acquire a louder voice in Congress. Deputies Elisa Carrio (UCR - Buenos Aires City) and former football referee Hector Baldassi (PRO - Cordoba) are among the most renowned candidates.