Takata to continue manufacturing airbags in Uruguay despite bankruptcy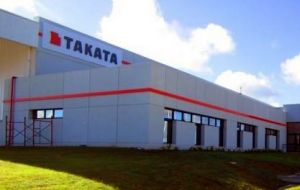 The Uruguayan plant of the Japanese airbag manufacturer Takata, which has filed for bankruptcy protection in the United States and Japan, will continue to operate normally, Takata Uruguay plant manager José Enrique Alonso explained.
"More than 300,000 airbags are produced each month in Uruguay and the plant "is fully prepared to accompany the growth of Takata Brazil," Alonso said. Most of the local production is destined for the automotive industry of the neighbouring country.
Takata's parent company in Japan has said it had agreed to be largely acquired for 1.6 billion dollars by the Chinese-owned U.S.-based Key Safety Systems. The Japanese company fell from grace due to scandals caused by fraudulent flaws in its airbags due to which it faces tens of billions of dollars in costs and liabilities resulting from almost a decade of recalls and lawsuits. Takata's total liabilities are estimated to stand at $15 billion.
Its airbag inflators have been linked to at least 16 deaths and 180 injuries worldwide. Takata has has admitted to having either already recalled or expecting to recall about 125 million vehicles worldwide by 2019.
"We seek the excellence in quality and competitiveness regarding the products manufactured at Takata Uruguay, visualizing that our company is competing globally with other suppliers in a highly competitive market," Alonso added.
"We reaffirm that Takata units in Brazil and Uruguay will not enter into judicial recovery," the company said through a press release.
Uruguayan metal workers' union leader César Acosta said that they were aware of the fact that there will be a buyover soon but ruled out concerns because, unlike other auto part manufacturers, Takata has increased its output in Uruguay in recent times.