Mystery police helicopter pilot jumps into the limelight in Venezuela... and vanishes
Thursday, June 29th 2017 - 01:41 UTC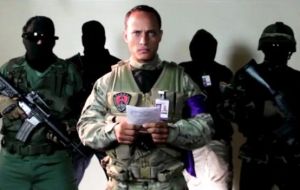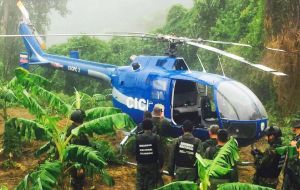 It is still unclear whether Oscar Perez is either a revolutionary officer standing up against Nicolás Maduro's régime or part of a government-sponsored montage as he drops grenades onto the Supreme Court building from his hijacked helicopter and makes video announcements that he and his fellow "nationalist" men will defend their country.
Grenades were lobbed from a police helicopter at Caracas' Supreme Court building on Tuesday evening by Oscar Pérez, a real-life police intelligence pilot who is already known to the Venezuelan public for his acting role in the 2015 action movie "Suspended Death," where he played ... a police helicopter pilot.
Pérez, whose stunt came shortly after Nicolás Maduro had vowed to resort to guns to achieve whatever couldn't be achieved through voting and thus defend the Bolivarian Revolution, released a video on social media where he addressed all Venezuelans, announcing the beginning of a rebellion against Maduro's "tyranny."
Earlier Tuesday, other videos were made public showing the helicopter, from where a man held a banner that read "Liberty. Article 350", in reference to the Venezuelan constitution's section that allows citizens to declare themselves in civil disobedience in the event of "any regime that runs contrary to democratic guarantees or undermines human rights."
Maduro's government immediately labeled Pérez as "a terrorist" while others considered him to be the "Venezuelan James Bond."
"What happened doesn't make much sense," said Luis Manuel Esculpi, a retired lawmaker and defense expert who professed being puzzled by how a rogue helicopter could fly over the nation's capital without setting off its air-defense system.
Speculation grew during Wednesday that it had all been staged by Maduro's régime to justify stronger street policing which usually got out of control, adding to the number of injured - apart from the nearly 90 demonstrators killed - since daily citizen protests began three months ago.
Many Venezuelans were also wondering how Pérez' whereabouts could still be unknown despite the helicopter having been retrieved "exactly in the town of Osma, in the state of Vargas (near Caracas), but so far nobody has been detained," according to VicePresident Tarek El Aissami.
Members of the opposition publicly downplayed the whole incident, but Inés González Arraga, a former political prisoner, better known for her Twitter name InesitaTerrible, posted her support for the 35-year-old rogue officer, who, according to his Instagram profile, is a crime units investigator, a pilot and a K9 instructor.
"Yesterday the resistance rose to level with the entrance of Oscar Perez and his men. They join the flannel army. No (constitutional) assembly! You'll see," she posted Wednesday.
As police repression mounted, Attorney General Luisa Ortega, who had in recent weeks grown critical of the government, said that "this is state terrorism."
Maduro's government has issued both a national and an international red code arrest warrant against Oscar Pérez. Meanwhile, newly-appointed Foreign Minister Samuel Moncada said his country expected solidarity from the international community, especially from the European Union.
Moncada said the world was turning a blind eye and a deaf ear on Venezuela. "Anywhere in the world this is a terrorist act. However, we are still waiting to see the reaction of many countries on what happened," he explained.
"Spain has not even picked up a telephone to condemn the violent act, from Italy we have not even received the call of the minister to tell us that he is worried, from the European Union, that pronounces itself against Venezuela on a daily basis, it seems that they have not been aware of the fact nor condemned it."