UK embassy in Uruguay readying for Expo-Prado 2017; Falklands will also attend
Thursday, July 13th 2017 - 09:05 UTC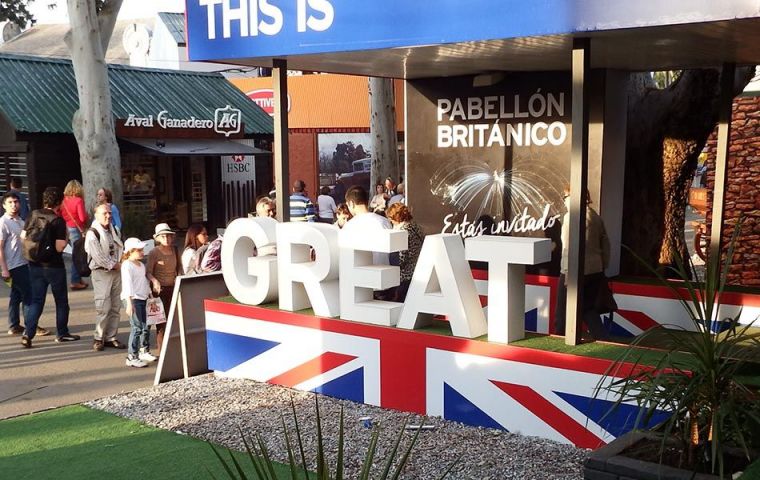 Following the previous edition's success, the British Embassy in Uruguay will be present for the fourth consecutive year at the agricultural show, Expo Prado, from 6 - 17 September, with a Pavilion centered on business, education, culture, gastronomy and entertainment, including a Falkland Islands stand.
The Pavilion will host stands of British and Uruguayan brands with ties to the United Kingdom such as Berkshire Polo Club, FCR-DAS -a company that specializes in quality management certifications-, and water filters Doulton, who will have the opportunity to promote their products and services among an estimated 75.000 visitors.
The traditional English pub, Craft Beer Bar, will be offering typical British beer, and the Tea House, hosted once again by Nuez y Chocolate, will be serving delicious meals throughout the day, including not only the classic five o'clock tea, but also breakfast, lunch and snacks.
The British Council will be taking part with a stand focused on education and will organize activities related to the 20th anniversary of the publication of the first Harry Potter book. EF -world leader in international education- will be promoting their student exchange programs to the United Kingdom, as well as their English courses.
The Falkland Islands will be represented once again by a delegation that will continue to develop commercial and cultural ties with Uruguay, besides promoting tourism.
British or Uruguayan companies linked to the United Kingdom who are interested in participating in the Pavilion may contact the Embassy through expoprado@fco.gov.uk
Agricultural information about Uruguay