Farewell parade for Falklands' outgoing governor; designate arrives in September
Friday, July 14th 2017 - 06:15 UTC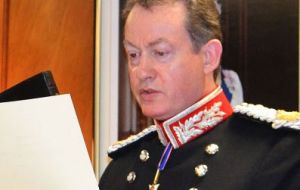 A farewell parade for the Falkland Islands outgoing governor, Mr Colin Roberts CVO, will be held on Sunday July 16, on Stanley's Victory Green and Ross Road, according to a release from Gilbert House, seat of the Falklands elected government.
The farewell parade will include a Royal Salute and following the Salute an inspection will start with the Tri-Service detachment representing BFSAI and move to the FIDF detachment, the Royal British Legion and Associations.
Members of the Legislative Assembly and FIG Directors will be in attendance. There will be 17 gun salute and the Governor's sword will be handed over to the Speaker of the Legislative Assembly for safe-keeping until the Governor Designate is sworn in later this year.
The Governor will speak to Youth Groups and spectators before returning to Government House. Members of the Public are cordially invited to attend the Parade and should be in position not later than 1050 hours. It is appropriate for medals to be worn for this occasion.
Governor Roberts will be leaving the Islands on Tuesday 18 July. He will be replaced by recently appointed Nigel Phillips CBE, who will be taking up his post next September. Phillips served in the RAF from 1984 until 2000, and has since then worked in a number of defense attaché roles in British Embassies.
Since 2016 Phillips has been at the UK Permanent Representation to the European Union, in Brussels, Deputy Military Representative. Between 2014 and 2016 he was head, Russian Strategic Studies/Wider Europe Policy and 2013/14 Member of Royal College of Defense Studies. (Penguin News).-