Brexit second round with EU ends with "fundamental disagreements"
Friday, July 21st 2017 - 08:49 UTC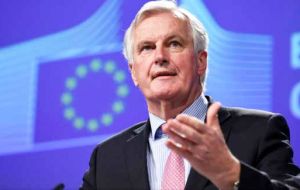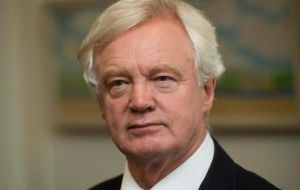 The second round of Brexit talks has ended with "fundamental" disagreements remaining between Britain and the European Union on citizens' rights and a stand-off over the so-called "divorce bill".
The EU's chief negotiator Michel Barnier demanded clarification on Britain's position on the financial settlement by the next round of talks in August but UK officials, who are understood to be frustrated at Brussels' own ambiguity on the bill, indicated they would not publish a position before autumn.
After four days of talks in Brussels, Brexit Secretary David Davis urged Brussels to show "flexibility" amid what is seen by the UK as "unprecedented" demands for the European Court of Justice (ECJ) to enforce EU nationals rights in the UK that amount to "judicial imperialism".
On Thursday, the final day of negotiations until next month, both sides also acknowledged "the clock is ticking" with "sufficient, concrete" progress needed before October's European Council to get approval for discussions on a future trade deal can begin.
Labour said the lack of progress in the second round of negotiations was "deeply concerning" and did not bode well for the future.
Mr. Barnier said the first round of talks had been about organization, this week had been about presentation, and the "third round must be about clarification".
He said: "We require this clarification on the financial settlement, on citizens' rights, on Ireland, with the two key points of the common travel area and the Good Friday Agreement and the other separation issues where this week's experience has quite simply shown we make better progress where our respective positions are clear."
After negotiations finished, Britain produced a color-coded document on citizens' rights setting out topics for negotiation, the EU position compared with the UK position, and areas of agreement marked in green, disagreement marked in red, and topics for further discussion in amber.
Half of the issues (22) were marked green, meaning they are agreed, while 14 were colored red, and eight amber.
New difficulties emerging on citizens' rights included:
:: Brussels attempts to block the UK carrying out criminal record checks on EU nationals who apply for settled status after Brexit
:: UK sources ordering the EU to show "respect" after negotiators were surprised when Brussels negotiators said British expats would lose their free movement rights to move to another country in the bloc under free movement rules.
:: Fresh uncertainty over healthcare costs for Britons holidaying in the EU after Brexit with the European Commission said to want to limit the scope of the European Health Insurance Card system.
Mr Barnier said "fundamental" disagreements remain over citizens' rights, arguing reforms must be underpinned by European courts. This is not a political point we are making, it's a legal one," he told a Brussels press conference.
"Simply, if there is to be continuity of EU law, that has to be framed by case law of the court. Only the court can interpret EU law. It's not a choice, it's an obligation."
Further details about the UK's willingness to pay a fee to Brussels will be required before talks can move on to a trade deal, Mr. Barnier indicated. But UK government negotiators are understood to think the EU team is being unclear on what it believes are the UK's legal obligations.
Mr. Barnier said: "A clarification of the UK position is indispensable for us to negotiate and for us to make sufficient progress on this financial dossier, which is inseparable from the other withdrawal dossiers.
"What we want, and we are working on this, is an orderly withdrawal for the United Kingdom, that's decided. "An orderly withdrawal means accounts must be settled. We know that agreement will not be achieved through incremental steps.
"As soon as the UK is ready to clarify the nature of its commitments, we will be prepared to discuss this with the British negotiators."