Cristina Fernandez could become Senator, but overall Macri will have a stronger block in congress
Friday, August 4th 2017 - 06:31 UTC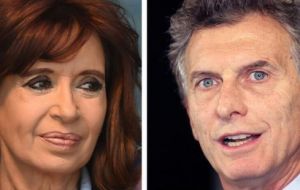 With less than two weeks for the PASO compulsory primaries in Argentina, in anticipation of the October midterm elections, the ruling political party of president Mauricio Macri "Let us change", is expected to come out in "a better position", whether it wins or loses with the revival of Kirchnerism.
Alejandro Catterberg, head of pollster Poliarquia said that whether Macri's ex Education minister and Senator hopeful Esteban Bullrich beats or is beaten by ex president Cristina Fernandez de Kirchner, "the president's grouping will come out in a better position, in a relatively improved position in Congress".
Bullrich and Cristina Fernandez are running a pre-candidates of their respective parties in the crucial province of Buenos Aires, which represents more than 35% of the Argentine electoral roll. Opinion polls indicate that the former president is ahead in vote intention in the province.

Catterberg added that according to their projections, "Let's change" will take an extra eight seats in the Senate, while the leading block of the Justicialista party will lose six and end divided since Cristina Fernandez is running as candidate of an independent new party. Of the 24 Senators (a third of the Upper House), only three are from Macri´s party.
Regarding the Lower House's "Let's change" block, it is expected to win an additional 12 members, which will bring it closer to the 100 members, although short from the 129 quorum, but will represent "a relative improvement".
Catterberg also anticipated that the ruling party and allies are expected to win in Mendoza and Corrientes, plus Buenos Aires City. Likewise in Tucuman, Chaco, San Luis and Cordoba, "Macri can be expected to have a better performance than what he managed in 2015"
However the main challenge for Macri and his party remains in the province of Buenos Aires particularly in the urban areas, which have been hit hardest by the economic situation following the deregulation of public utility rates, loss of jobs and hopes of a quick recovery.
"Currently "Let's Change" has a lesser margin of winning than in October 2015, when against all odds and pollsters, Maria Eugenia Vidal, Macri's candidate, beat the Kirchnerites". Much will depend on how strong the economic recovery is, and if it will reach in time to change disgruntled citizens into hopeful votes.