Royal Mint will supply Argentina with 150 million Peso coin blanks
Tuesday, August 8th 2017 - 08:54 UTC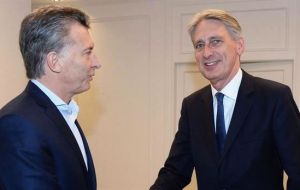 UK's Royal Mint will supply Argentina with 150 million peso coins, after the institution won a contract to assist with the minting of a new coin series. Announced on social media by UK chancellor Philip Hammond, the mint will work closely with its Argentine counterpart – Sociedad del Estado Casa de Moneda – to produce blanks for the new coin series.
According to Argentine media the blanks' contract is worth US$ 1.7 million. An official from the Argentine counterpart said that there was an international bid because "there are no manufacturers of blanks in the country"
However the official added it was not the only recent international bid. In effect the Spanish blanks mint, Ceco SA, was awarded a contract for the new 5 Pesos coin. The Spanish company will supply 200 million blanks in association with Germany's Deutsche Nickel company.
"The (Argentine) central bank believes the country is short of 1 Peso coins and it is also time to begin with the 5 Peso coins. The plan also includes withdrawing the 5 Peso bill", and this despite the fact the bank is promoting a quick change to electronic money and transactions.
Apparently the Royal Mint for many years has been extending commercial and technical support for Argentina's central bank and mint plant.