Argentina' final sprint to the midterm elections; the primary cost the central bank US$ 1.8bn
Saturday, August 12th 2017 - 11:08 UTC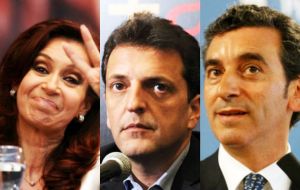 With trading much more relaxed on Friday ended the several days of money market uncertainty leading to Argentina Sunday´s primary election, an anticipation of what can happen in the midterm elections of 22 October when President Mauricio Macri's economic reforms will be put to test in the polls, and hopefully his coalition will increase its congressional support.
In effect uncertainty meant that the Central Bank had to intervene in the market's last ten rounds to keep the US dollar from breaking the 18 Pesos benchmark, particularly since opinion polls started to show that ex president Cristina Fernandez running on her new party, Unidad Ciudadana, was attracting support from a third of the voters in her bid for the Senate bench in the crucial Buenos Aires province.
Her solid backing, 33/35%, slightly ahead of that of Macri´s handpicked candidate, scared businesses and investors, and this was reflected in Argentines' historic search for refuge in the greenback. In this scenario the Argentine central bank, after months of relative calm in the money exchange market, had to be active in the last ten/twelve rounds to support the Argentine peso at a cost, including Friday, of over 1.8bn dollars, although the peak occurred at midweek.
Anyhow the US$ 1.8bn compared to the over US$ 45bn current central bank reserves is no comparison to the Cristina Fernandez days when trading or hoarding dollars was a crime liable of imprisonment, and reserves were below US$ 18bn.
Likewise from a political point of view, if Cristina Fernandez finally makes to the Senate in October, there is little chance of her becoming a cohesion factor in the divided opposition, with no chance of a real presidential comeback in 2019. According to analysts this is so because of the strong rejection and negative standing her name triggers in the province of Buenos Aires, which according to opinion polls stands at 65%. In the rest of Argentina overall it is even higher.
Besides there are several younger figures in the Peronist movement already working on their presidential aspirations, such as ex cabinet chief Sergio Massa and ex minister Florencio Randazzo, both competing in Sunday´s primary on different tickets.
Nevertheless as of next Monday, when all parties begin campaigning for the October target, for the Argentine government, and stability, much will depend if the Macri orthodox economic policies manage to deliver jobs, bring down inflation and improve security.