Primaries in Argentina show Macri's coalition is en route to become the main political force
Monday, August 14th 2017 - 07:43 UTC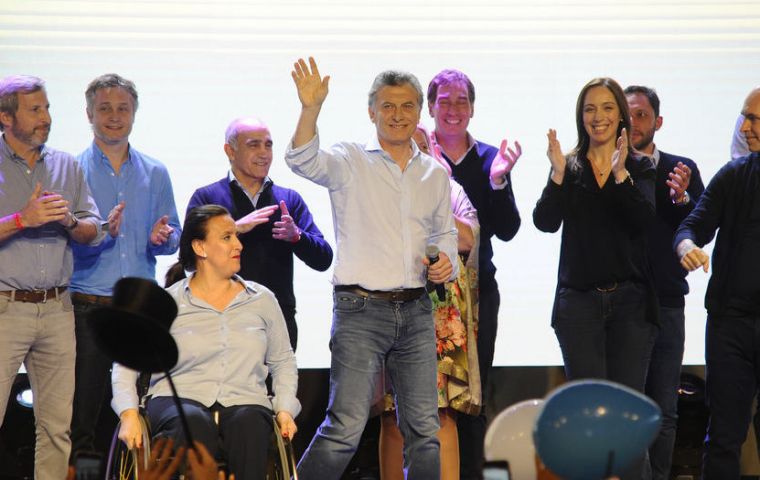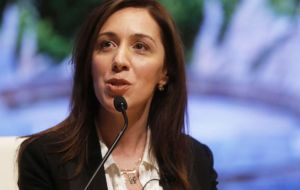 Argentina's ruling coalition headed by president Mauricio Macri managed better than expected overall results in Sunday's national mandatory and simultaneous primaries to choose candidates for the midterm elections of 22 October.
In effect, if Sunday's results are replicated in October, Macri's party "Let's change" would become the main political force in Argentina since its candidates received the most votes in the leading electoral districts such as Cordoba, Santa Fe, Buenos Aires City, Mendoza, Entre Rios, La Pampa and in the crucial Buenos Aires province, --that holds 38% of the national electorate--.
At 03: 00 Monday morning with 90% of polling stations counted there was a technical tie with the resurgent ex populist president Cristina Fernandez.
The overall performance means that the Macri administration should manage a larger representation in October when half of the Lower House and a third of Senate benches (24) will be renewed.
"This is a great day for Argentina", said Macri in a victory rally, "people believe in changes, because changes are being implemented, and Argentines want to live better, want to see their families prosper".
"I call on all parties, on all Argentines, to leave aside differences and try to agree and converge on long term planning for the country. I'm convinced the opposition has a great role to play in this, we need changes, Argentines want changes for good, not for political bickering", added the Argentine president.
It will be up to political analysts to argue whether this exceptional showing of an Argentine ruling government in midterm, which has not been seen since 1985, was the result of Macri's change pledges (jailing corrupt officials, improving education and infrastructure, combating poverty and the drug cartels) or because voters basically rejected the populist policies and rampant corruption of ex president Cristina Fernandez administrations (2007/11; 2011/2015)
And this despite the fact the orthodox economic reforms being implemented by the Macri administration have caused loss of jobs and punished Argentine pockets. Macri admits he received the legacy of a third of Argentines living in poverty, and a bankrupt treasury, but "with changes the economy is picking up, jobs are returning, incomes are increasing".
However besides the encouraging results, an improving economy, the great battle was in the province of Buenos Aires where Cristina Fernandez running on an independent ticket, Unidad Ciudadana, for a bench in the Senate, managed 34% of votes cast, which means most probably she will become a member of the higher house in October, with all the impact her comeback and promised policies have had on public opinion and in the business community and investors..
In effect with 87.97% of polling stations counted, Macri's coalition led by former education minister Esteban Bullrich had 34.31% of votes compared with 33.98% for Fernandez's list in Buenos Aires province.
Bullrich's lead narrowed significantly late in the count in the hotly contested battle to represent the province. Fernandez had been expected to win by several percentage points according to the final polls last week, causing investors to fear a comeback in Congress could pave the way to her running for president in 2019 and ending Macri's reform agenda.
But even with Kirchnerism representing 20/22% of the national electorate, her authoritarian style and presidential ambitions, if she effectively has them or is simply looking to take refuge in the Senate from several corruption related court cases, her leadership is rejected point blank by most opposition governors, who short of funds have been collaborating with the Macri administration and his infrastructure projects.
A special mention and credit must be given to the current governor of the province of Buenos Aires, Maria Eugenia Vidal, who is proving to be the best political sword of the Macri administration. When polls started to show that Bullrich was running out of fuel, in the last week she took to the campaign trail and helped inch the technical tie and frustrate Cristina Fenandez full victorious comeback with several points ahead of the candidate sponsored by the business friendly administration.
Ms Vidal and her family have been forced to live in a military garrison since she receives continuous death threats for her fight against deeply ingrained corruption. In the Buenos Aires province, she has sacked over 10% of the 50.000 strong police force, plus purging many officials from the administration.