Queen's Baton Relay of Commonwealth Games arrived in the Falkland Islands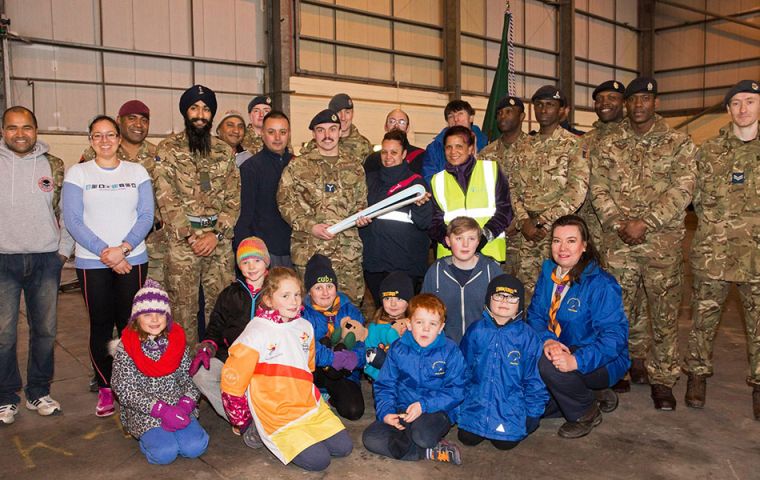 The Queen's Baton Relay of the Commonwealth Games has arrived in the Falkland Islands. The baton carries a message from Her Majesty Queen Elizabeth, the Head of the Commonwealth, and is travelling around the world prior to the beginning of the Commonwealth Games in April 2018. This tradition began in 1958. The baton visit was organised by the Falkland Islands Overseas Games Association (FIOGA)
During its whirlwind visit, personnel, families and youngsters from BFSAI Falklands got up close and personal with it.
Commander British Forces South Atlantic Islands Brigadier Baz Bennett said: "It's been handed to service personnel from ten different Commonwealth countries already, the Scout group, the school on MPC and now it's with the families which is fantastic"
The Falkland Islands were the 39th location on the baton's 388 day, 230 000 KM, 70+ leg journey. The baton, which has been designed to reflect the past, present and future of the Australian Gold Coast, has visited Kenya, Seychelles, Anguilla, Canada and Belize in a long list of destinations.
Talking to BFBS Falkland Islands' Jade Callaway about its final destination Keri Algar from the Commonwealth Games Committee said: "Her Majesty's message is removed from the baton, it's read aloud and this is what officially declares the Commonwealth Games open."
The next stop is Pakistan but before that the baton will visit RAF Brize Norton on its journey to the Gold Coast games in 2018.
I started the epic round the world journey at Buckingham Palace on 13 March and will reach its final destination of Australia on Christmas Eve. (Forces Network)