Argentine Senate head calls on UK for Falklands/Malvinas discussions
Thursday, August 17th 2017 - 10:00 UTC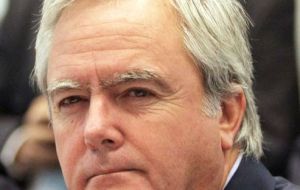 Argentine Senate president Federico Pinedo called on the British government "to sit down and discuss all issues (of the bilateral agenda) including the Malvinas dispute", and should also make a greater effort in improving its relations with Latin America, according to a statement from DYN news agency.
It was the first Argentine high official reaction to the recent letter from Prime Minister Theresa May to the Falkland Islands elected government reassuring the Islanders right to self determination, and also calling on Argentina to meet the public commitments of the September 2016 joint communiqué.
"The government of Mrs. Theresa May should comply with its share of the agreements and sit down to discuss all issues including the Malvinas question", underlined Senator Pinedo in a twitter message.
He added that the British government should improve its relations with Latin America and "the life quality of Islanders", allegedly in reference to connectivity.
In the reply letter sent to the Falklands Legislative Assembly, which had congratulated the prime minister on her re-election, Mrs. May reiterated the UK Government's strong and wholehearted support for Islanders right to self-determination, and also pledged its commitment to consult with British Overseas Territories throughout the Brexit process.
The release from the Falklands making public contents of the reply letter mentioned that the UK government was seeking a more productive relationship with Argentina, but stated that "the UK-Argentina relationship will not fulfill its full potential until the Government of Argentina meets the public commitments it made in September 2016 joint communiqué", signed by the previous foreign minister Susana Malcorra and Sir Alan Duncan.
The joint communiqué has a specific chapter on the South Atlantic in which both sides agreed to set up a dialogue to improve cooperation on issues of mutual interest. In this context it was agreed to take the appropriate measures to remove all obstacles limiting the economic growth and sustainable development of the Falkland Islands, including in trade, fishing, shipping and hydrocarbons.
Both sides also agreed that further air links between the Falkland Islands and third countries would be established with two additional stops per month in mainland Argentina, one in each direction.
Finally full support for a DNA identification process in respect of unknown Argentine soldiers buried in the Falklands' Darwin cemetery was agreed, an activity which is in being carried out under supervision of the International Committee of the Red Cross, and to satisfaction of all sides.