Falklands' war Peruvian air force Mirage on exhibition in Cordoba
Friday, August 25th 2017 - 12:05 UTC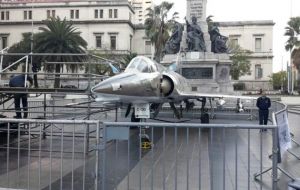 One of the ten fighter bombers donated by Peru to Argentina during the 1982 South Atlantic conflict is being exhibited in the Velez Sarsfield Plaza, at the heart of Cordoba City, as part of the 105 anniversary celebrations of the Argentine Air Force.
The Dassault Mirage originally from the Peruvian Air Force arrived at the Tandil VI Air Brigade from the La Joya base in Arequipa, Peru in May 1982, and the donation is considered one of the "greatest solidarity gestures" Argentina received during the Falklands/Malvinas war.
Despite the arms supply embargo imposed on Argentina during the conflict, Peru provided the Argentine Air Force with ten Mirages --and missiles--, similar to those flown by Argentine pilots.
The Peruvian president of the time Belaúnde Terry was attempting, together with the US Department of State, to mediate in the conflict born out of the Argentine invasion of the Falklands, but negotiations fell through, and Peru consequently decided to provide Argentina with the aircraft, in what was described as "a expression of fraternity between the two countries".
Argentina and Peru are long standing allies since they both have had border area differences with Chile.
Besides the Mirage exhibition, the city of Cordoba authorities has organized a program of activities, films, conferences, videos, in coordination with the Air Force school of non commissioned officers, the Argentine factory of aircraft, the Peruvian consulate, and the Cordoba branch of Malvinas and South Atlantic veterans.