Ecuador sentences 20 Chinese fishermen for poaching; Beijing cautious about how to react
Thursday, August 31st 2017 - 07:24 UTC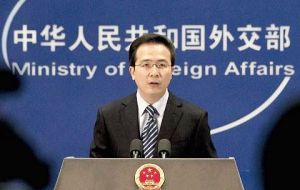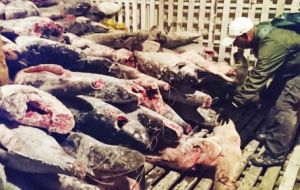 Overfishing has given rise to a diplomatic trouble between China and Ecuador. In mid-August, Ecuador detained a Chinese vessel in the Galapagos Islands and found 6.600 sharks on board. The 20 Chinese fishermen have been sentenced up to four years for illegally fishing and to pay US$ 5.9 million.
On August 29, Chinese foreign ministry said there has been no evidence proving that the vessel was engaged in fishing and transporting there.
According to Ecuador's Ministry of Environment's statement published on August 14, the Galapagos National Park authorities and the Ecuadorian navy captured a Chinese ship–identified as Fu Yuan Yu Leng 999– with 20 crew members, in the Galapagos Marine Reserve, where absolutely no fishing is allowed. On board, approximately 300 tons of marine fauna of various species, including endangered hammerhead sharks, were found.
The director of the Galapagos National Park said it could be the largest vessel captured within the Marine Reserve.
On August 28, the 20 Chinese fishermen were sentenced by an Ecuadorean judge up to four years and a total of US$5.9 million in fines for illegally fishing. In addition, Ecuador's foreign ministry revealed it had sent a formal protest to China over the incident. To make matters worse, several groups of demonstrators have been protesting outside the Chinese embassy in Ecuador since the vessel was caught.
In response, the Chinese foreign ministry appeared very fair and impartial in the first place. On August 28, Chinese foreign ministry spokesperson Hua Chunying said:
"We've said many times that the Chinese government opposes all forms of illegal fishing. On the issue of protecting endangered wildlife, the Chinese government adopts a zero-tolerance attitude towards illegal trading in endangered wildlife and the products derived from them. The Chinese government always instructs its fishing businesses to operate in accordance with laws and regulations and protect the marine eco-environment. China believes that relevant departments in Ecuador will deal with this case in accordance with law and guarantee the lawful rights and interests of the Chinese personnel and enterprises".
However, Hua's attitude slightly changed on August 29. Although she maintained China's zero-tolerance position again, she emphasized that China has ordered immediate investigation on the case:
"Judging from the information gleaned from the two sides, there has been no evidence proving that the vessel was engaged in fishing and transporting in the Ecuadorian waters. But, unaware of the relevant rules of Ecuador, the vessel did sail in the marine protection zone of the Galapagos Islands without permission of the Ecuadorian government".
Meanwhile, the director of the Galapagos National Park also acknowledged that the origin of the fishing the Chinese vessel transported is unknown, despite the fact that the vessel did carry thousands of sharks, according to Ecuador's Ministry of Environment's statement.
Hua also added that the Chinese government will carry out due investigation and verification: "Any illegal actions, if found, will be severely punished by international law and China's domestic laws."