Reception in UK embassy for Uruguayan Chevening scholars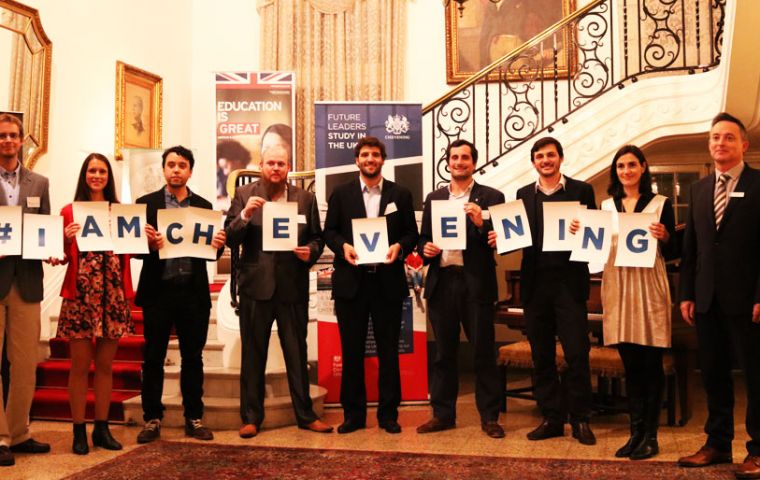 The British embassy in Uruguay organized a pre-departure event for the Chevening scholars who will study masters degrees at UK universities in 2017-18. After a presentation on the Chevening experience and what awaits them upon their arrival in the United Kingdom, the ambassador offered a reception for them and their families, authorities, alumni and members of the Graduates from British Universities Association, GBUA.
Other young professionals who chose the UK for their postgraduate studies were also invited. Two of them are Harper Adams University scholars and one of them was awarded a scholarship by the National Agency of Research and Innovation, ANII, to study at Lincoln University.
Ambassador Ian Duddy said that the Chevening scholars' network in Uruguay, and more broadly, GBUA, has grown significantly in the past two years, with almost 60 professionals who have been awarded scholarships by the British government together with ANII. He added:
The aim is that they take advantage of the top-level education they will receive, return and use their experience to contribute to the benefit of their country. I invite you to join this group on your return, and actively participate to deepen relations between Uruguay and the United Kingdom.
Ambassador Duddy thanked ANII for their partnering and support, and along Laura Di Giovanni, from ANII's Cooperation Department, gave a recognition to each of the scholars.
This year's Chevening scholars are:
• Andrés Estradé - MSc in Early Intervention in Psychosis, King's College London
• Santiago Benenati - MA in Housing and Urbanism, Architectural Association
• Nicolás Rondán - MSc in Artificial Intelligence, University of Edinburgh
• Maite Capandeguy - MSc in Environmental Engineering, Newcastle University
• Gonzalo Baroni - MSc in International Development (Urban Development), University of Birmingham
• Ezequiel Alemán - MA in Learning, Technology and Education, University of Nottingham
• Carmen Suárez - MSc in Tissue Engineering, Cardiff University
• Gonzalo Irrazábal - LLM in Energy and Natural Resources Law, Queen Mary, University of London