Falklands promotes the Weather Observation Website to improve forecasting
Saturday, September 16th 2017 - 08:12 UTC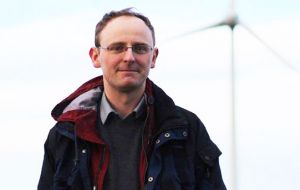 The Falkland Islands government is calling for individuals' weather observations to be uploaded to the Met Office system thus helping with improving forecasting and in formal weather modeling.
In July 2016 the Met Office made a presentation at Farmers' Week and introduced to the Falkland Islands the Weather Observation Website: https://wow.metoffice.gov.uk/
This website, which has been operating for a number of years in the UK, is an online tool that allows individuals to upload their own weather observations.
There is no need for any formal training to do this and it does not require, in its most basic form, any specific meteorological equipment. It can be solely based on an individual's observation of the weather. Observations can be uploaded when the individual chooses to.
These observations can then be used to fact-check formal weather forecasting, and over time, may be useful both as an historical source of weather data and may help formal weather modeling.
Justin Chamberlain, Principal Met Officer South Atlantic Islands, said "we are keen to encourage the development of citizen-led input into this website in the Falkland Islands, and are always available to advise on how best to approach this. Forecasting in the Falklands can be a real challenge, especially due to the lack of observational data.
Inevitably there will be some constraints in terms of equipment and bandwidth, but even simple observations can be very helpful to the Met Office team here."
Michael Poole, MLA, holder of the Portfolio for the Environment noted that "further improving weather forecasting in the Islands can be beneficial to a number of industries, particularly Agriculture. The Government are supportive of initiatives that help achieve this and are aware that a number of individuals and organizations already record and store a range of weather and environmental data, which we hope can be shared via this website over time".