Falkland Islands Government marks thirty years exhibiting at the UK Party Political Conferences.
Tuesday, September 26th 2017 - 17:18 UTC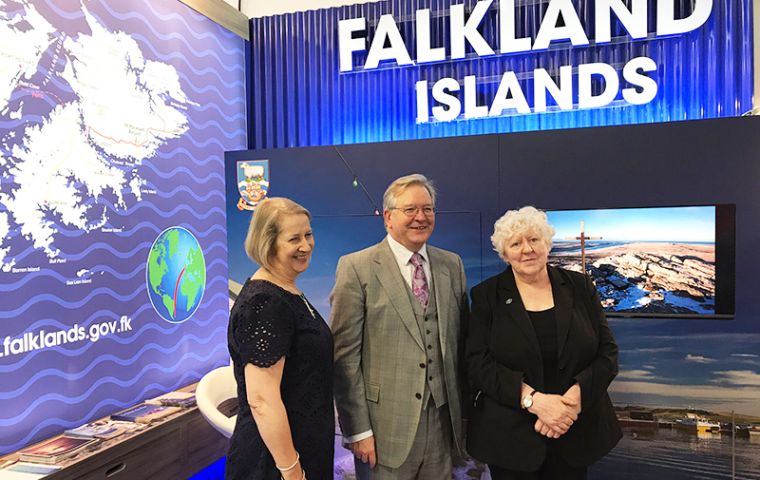 The Falkland Islands Government continue to attend and exhibit at both the Conservative and Labour Party Conferences, to represent Falkland Islanders views and to thank delegates for their continued support. This includes both the Government and Opposition politicians, along with the wider general public attending.
This year the Labour Party Conference is being held at Brighton 24th-27th September and the Conservative Party Conference takes place in Manchester from 1st - 4th October. The Falkland Islands Government will also attend the Scottish National Party conference in October.
This year marks the thirtieth in succession that the Falkland Islands Government have exhibited at the conferences, offering a great opportunity to meet with delegates and debate issues. Many Ministers and Shadow Ministers visit the exhibit to discuss matters at more length; whilst MP friends of the Falklands, many of whom have visited the Islands, call by to maintain contact.
The main topics raised this year include Brexit, trade and self-determination.
Falkland Islands Representative in the U.K. Sukey Cameron MBE has attended for all of the past thirty years, whilst Jan Cheek MLA, is marking her twelfth year on the stand.
Sukey Cameron said "We are always very grateful for the interest and support we get from all parties. It's great to meet old friends and make new ones as well". Jan Cheek MLA said "The Party conferences are a great opportunity to meet and talk to a large number of people in a short time. It is always a worthwhile experience".
In recognition of the thirty years attendance , the Falkland Islands Government were presented with a special award by the Labour Party conference organisers.