British Embassy present at the main Uruguayan agri-business exhibition for the fourth consecutive year.
Thursday, September 28th 2017 - 07:48 UTC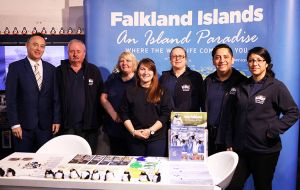 From 6-17 September, Montevideo was home to Uruguay's biggest agricultural industrial fair, Expo-Prado, and the British Embassy was present with a pavilion focused on tourism, business, education, gastronomy and culture.
British brands represented in Uruguay sold their products and services. Clothing by Royal County of Berkshire Polo Club and Doulton water filters were available for sale, as well as various British supermarket products, at Tienda Inglesa stand.
MINI presented their new MINI Countryman and offered a Test Drive Show. JCB promoted their construction machinery equipment and FCR-DAS offered their services and courses on quality management certifications.
The pavilion had many spaces dedicated to education: British Council organised activities for children and a big Over 600 20th anniversary celebration of "Harry Potter and the Philosopher's Stone" attended by 600 Harry Potter fans.
EF promoted their exchange programs; London Institute offered their range of online English courses and Harper Adams University had a stand where people could get information about their courses and facilities in the UK.
A private delegation from the Falkland Islands was present to promote tourism and with the aim of expanding their commercial contacts with Uruguay.
Visitors were able to enjoy a typical British beer at Craft Beer Bar while listening to live music. Others indulged in an English Tea at Nuez & Chocolates' Tea House. Their five o'clock tea talk with Tea Sommelier Monica Devoto was a hit.
During the first week, a Trade Delegation of British companies (ATL, Nick Young Tractor Parts, Britain & Latin America Logistics and Harper Adams University) visited the Expo Prado and held meetings at the British Pavilion and at various farms.
The British Embassy also sponsored the second edition of the Hackathon AGRO, a competition that attracted many professionals and consisted in developing solutions to different challenges faced by the agricultural sector in Uruguay. The winners will travel to the United Kingdom to attend the conference "Game Changing Technologies for Agriculture and the Bio-economy" and meet authorities from Harper Adams University.
The British Pavilion was recognized as best pavilion in the Embassy and Chambers of Commerce category by the Uruguayan Rural Association (ARU), Expo Prado organisers. JCB received a mention for their stand and Craft Beer Bar got a mention for their design, recreating a typical British pub.