"Labour on the threshold of power", and "Tories hanging on their fingertips", Corbyn tells the conference
Thursday, September 28th 2017 - 07:30 UTC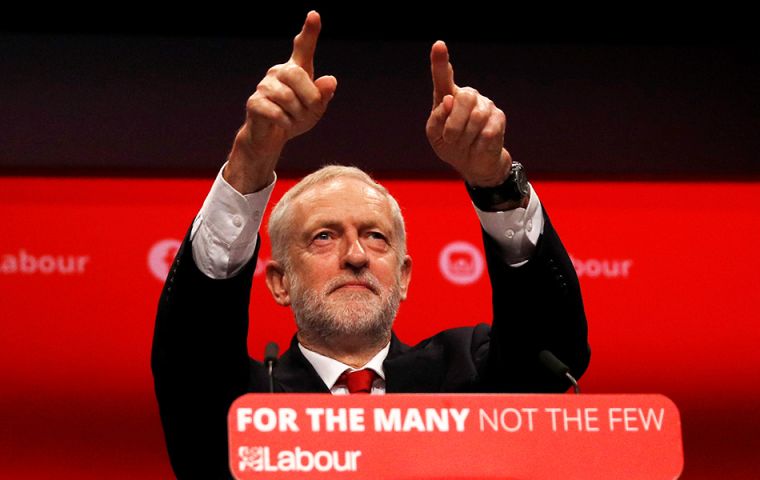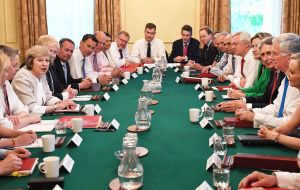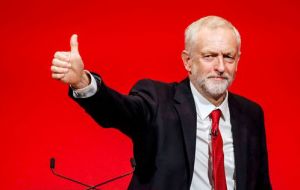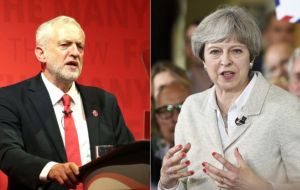 Jeremy Corbyn was given a rapturous reception from Labour delegates in Brighton as he told them that the party was now the "government-in-waiting". The Labour leader had to wait several minutes before delivering his keynote speech as the familiar chant of "Oh Jeremy Corbyn" rang round the conference hall.
Mr. Corbyn said that the June 8 general election, which saw Labour make its biggest gains since 1945, had put the party on the path to power. "It is a result that has put the Tories on notice and Labour on the threshold of power," he said to loud applause.
A year after having to fight to keep his job as leader, Mr. Corbyn said that the four-day conference had shown a "united party advancing in every part of Britain, winning the confidence of millions of our fellow citizens and setting out our ideas and our plans for our country's future and inspiring people of all ages and all backgrounds".
He promised that Labour in power would be about "making change by working together and standing up for all". And he said that it would take action to close the gender pay gap, including making equal pay mandatory in large companies.
The Labour leader claimed Theresa May and her ministers were "hanging on by their fingertips", and mocked the Prime Minister's "strong and stable" election slogan.
He said Labour was ready to tackle inequality, rebuild the NHS and invest in the economy. It would tackle the "challenges of climate change and automation". A Labour government would put "peace and justice at the heart of our foreign policy", Mr. Corbyn said.
On Brexit, the Labour leader said his party would build a "new and progressive" relationship with Europe. "We are ready and the Tories are clearly not," he said. "They are certainly not strong and they are definitely not stable", and "they are hanging on by their fingertips."
In a swipe at Mrs. May's £1 billion deal with the DUP to prop up her minority administration, he said the Conservatives had found a "magic money tree" and "now we know the price of power".
Mr. Corbyn said there was a "coalition of chaos all around the Cabinet table" instead of getting to grips with the major issues affecting the country.
He cited falling pay, rising homelessness, longer NHS waiting lists, rising child and in-work poverty, police officers losing their jobs and condemnation by the UN for disabled policies as evidence of Tory failing.
"That's not strong and stable, it's callous and it's calculating," he said. "This is a deeply divided Government with no purpose beyond clinging to power," and "it's Labour that's now setting the agenda."
Mr. Corbyn said Labour's election manifesto set out "the program of a modern, progressive socialist party that has rediscovered its roots and purpose, bucking the trend all across Europe".
Thanking activists for their part in Labour's campaign, he told them: "You are the future and I am awed and humbled by everything you have done.
"I have never been more proud to be the elected leader of this party."
After Mrs. May decided to hold the snap election during a hiking break with husband Philip in Snowdonia, Mr. Corbyn challenged her to do the same again and call another early poll.
"Take another walking holiday and make another impetuous decision," he said, in a message to the Prime Minister."
"The Labour campaign machine is primed and ready to roll."
As Mr. Corbyn paid tribute to Diane Abbott and condemned the social media abuse she has suffered, he had to break off as the audience broke into a chorus of Happy Birthday for the shadow home secretary, who has turned 64.
Mr. Corbyn hit out at his media critics, highlighting how "one paper devoted 14 pages to attacking the Labour Party", and added "Never have so many trees died in vain, the British people saw right through it".
"So this is a message to the Daily Mail's editor: next time, please make it 28 pages."
The campaign by the Tories and the media had been "nasty and personal and it fuelled abuse online", he said, highlighting the vitriol aimed at Ms Abbott. Mr. Corbyn continued: "There can never, ever be any excuse for any abuse of anybody by anybody."
"We are not having it, not tolerating it, not accepting it and not allowing it."
Mr. Corbyn repeated his pledge that Labour will "accept and respect" the result of last year's Brexit referendum, but said "respect for a democratic decision doesn't mean giving a green light to recklessness".
"So I have a simple message to the Cabinet: for Britain's sake, pull yourself together or make way."
Mr. Corbyn repeated his pledge that three million EU citizens living in Britain are "welcome here".
And he said: "Theresa May, if you are watching – and I'm sure you are – give them the full guarantees they deserve today. Because if you don't we will when we are in government."
Mr. Corbyn said that the Government's handling of Brexit talks had put the economy "under real threat".
"A powerful faction in the Conservative leadership sees Brexit as a chance to create a tax haven on the shores of Europe … a playground for hedge funds and speculators," he said.
This route would mean that "manufacturing industry would go to the wall, our tax base would crumble and our public services would be slashed even further", he warned.
And, despite rows over Brexit at the conference this week, he said: "Labour is the only party that can bring together those who voted Leave and those who voted Remain and unite the country for a future beyond Brexit".