Falklands' delegation heads for the Conservative party conference in Manchester
Friday, September 29th 2017 - 07:07 UTC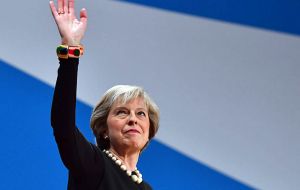 With the Labour party conference in Brighton behind, the Falkland Islands delegation will be moving on Saturday to Manchester for the Conservative party conference, which begins October first.
As in Brighton, Manchester, Bournemouth and Glasgow, the Falklands core delegation, MLA Jan Cheek and Falklands Representative in London, Sukey Cameron OBE, standing and smiling, work hard to maintain cross party support of the Islands right to self determination and development.
"As every year, we are careful to maintain balance and political neutrality. We value, and work hard to maintain the cross party support for our right to self determination, and MPs well informed" said MLA Cheek, a twelve year conference veteran.
Representative Sukey Cameron OBE, who has been on conferences tour for thirty years, also attended the Lib-Dem meeting in Bournemouth (16/19 September) and is scheduled to travel to Glasgow to interview members of the Scottish National Party, October 8/10.
"We are always very grateful for the interest and support we get from all parties. It's great to meet old friends and make new ones as well", said Sukey Cameron OBE, who in recognition of the thirty years attendance of the Falkland Islands Government was presented with a special award by the Labour Party conference organizers in Brighton.
MLA Cheek in her Penguin News column pointed out that this year the delegation have the added assistance of Michael Betts who has just taken over the deputy role from James Marsh, and "it is good for a moment to try to see the week through the eyes of someone who has not been to a party conference previously".
The Falklands' lawmaker admits she enjoys the whole events in spite "of sore throat and feet at the end of most days which is why I have volunteered so often"
"We get to meet many interesting people from every walk of life, not just politicians. We are reacquainted with old friends and make many new ones. People we knew as candidates are now MPs and many others move through a series of important roles as assistants and advisers".
However, standing and smiling, there is also the share of eccentric visitors and the very occasional awkward or hostile individual, who may resist almost all attempts to provide factual information or correct things misunderstood.
Likewise on some days certain repeated questions become a little tedious particularly the, "Isn't it terribly cold down there?" and, "have things settled down yet?"
If not careful the smile can become a little fixed as one trots out the standard replies as if having never heard the question before. (Penguin News).