Argentina, Uruguay and Paraguay launch bid to host the 2030 World Cup
Thursday, October 5th 2017 - 08:18 UTC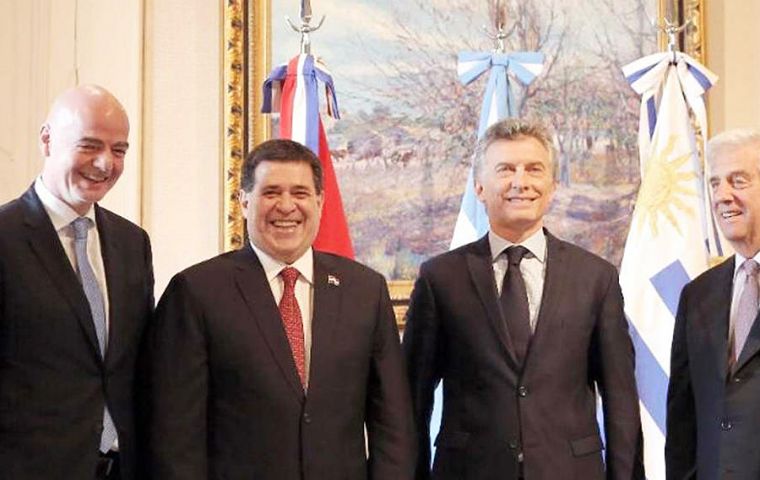 Argentina, Uruguay and Paraguay formally launched South America's three-nation bid to host the 2030 World Cup on Wednesday and said Argentina would likely host the majority of the tournament's stadiums. The presidents of the three nations, who announced in August that they were teaming up to bid for the tournament, kicked off the campaign at the Casa Rosada, Buenos Aires' government palace.
They said that the bid would likely involve two or three stadiums in Paraguay and Uruguay and six to eight stadiums in Argentina. They also played up the appeal of the World Cup returning to Uruguay where the first tournament was held in 1930.
"We know there are other countries that want it but I think the 100-year anniversary of the first World Cup in Uruguay makes the region a very attractive prospect," said Paraguay's President Horacio Cartes.
Uruguay won the first World Cup in Montevideo after beating neighbours Argentina 4-2 in the final.
Argentina and Uruguay, who have both won the World Cup twice, decided to launch a joint bid earlier this year and later added Paraguay, who have never won the tournament.
"The original idea came from Uruguay and it took us 40 seconds to say yes," Argentine president Mauricio Macri said.
"And when Paraguay was proposed it took me another 40 seconds to agree. Uruguay was also very positive about their inclusion and I think that gives the candidacy more power."
No other bid has yet been announced for the 2030 tournament, although China has declared an interest in hosting the event in the future.
FIFA President Gianni Infantino met with the three leaders in Buenos Aires earlier in the day but did not take part in the news conference.
The three presidents did not say which countries would host the final and prestigious opening match. They also did not discuss how much investment would be needed for the 48-team tournament. A first formal planning meeting will be held in early November, Cartes said.
Russia will host the World Cup in 2018 and Qatar four years later. The host nation for the 2026 competition has yet to be decided.