Patagonian king crab spawns and develops in lab conditions in Argentina
Saturday, October 7th 2017 - 19:43 UTC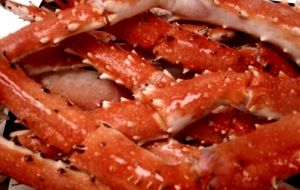 Argentina's National Institute of Fisheries Research and Development (INIDEP), with the Benthic Crustacean Fishery Subprogram, successfully registered the transportation from Ushuaia to Mar del Plata of king crab females with eggs and their subsequent spawning in laboratory conditions.
The king crab is a benthic crustacean that is distributed in temperate-cold waters of subantarctic origin, between 4° and 15°C. along the South Atlantic from the Falkland Islands and Tierra del Fuego, to San Jorge Gulf to the south of Brazil.
As part of the "Embryonic and larval development plan for repopulation of Patagonian king crab (Lithodes santolla)", in conjunction with the companies that catch this species, the experience began on September 12. Technician Pablo Lértora was in charge of maintaining the 19 females caught aboard the ship "Chiyo Maru" in conditions for its air transport between both cities.
Once in INIDEP, the king crabs were placed in two separate facilities designed for the maintenance and optimization of resources. After the critical adaptation period, the tasks of measurement and care were performed so that the females could spawn and later collect the larvae.
The king crab spawning is performed in pulses, that is, the larvae do not hatch all together but partially for one to two months, which facilitates the collection and sampling tasks. The larvae have three stages called Zoeas (I, II and III), whose duration in time before passing, through molting, to the next stage is approximately 4, 7 and 11 days. Zoeas I and II have already been obtained with a high survival rate, being the first experience of this type that is developed in the INIDEP.
This conditioning, feeding and evolution of the king crabs in captivity constitutes an important contribution to the knowledge of the biology of this species and to the feasibility of future king crab restocking projects on a larger scale.
The maintenance of the king crabs is an activity that is developed jointly with the Mariculture and Experimental Biology Program while it is necessary to determine the evolution and quality of eggs by working with both the Cabinet of Reproductive Biology and the Cabinet of Molecular Biology and Microbiology.
In order to carry out these experiences, the support of the companies (which contributed a large part of the necessary inputs to adapt the facilities) and the collaboration of personnel on board ships catching king crabs has been of paramount importance. In addition, permanent services were provided by the staff of the Operations Commission as well as by observers on board and all the INIDEP staff.
The benthic crustacean distributed in the South Atlantic, is located in the Falkland Islands and in the coast from Tierra del Fuego to San Jorge Gulf, from the coast following the influence of the Falkland Islands Current, to the south of Brazil. It usually inhabits seabed up to 700 meters deep, but the concentrations of commercial adult individuals have been found mainly between 30 and 120 meters. The king crab fishery is developed mainly in San Jorge Gulf and the greater concentrations are captured between 80 and 120 metres. (FIS)