South Georgia proposing to extend toothfish licensing period from 2 to 4 years
Tuesday, October 10th 2017 - 02:11 UTC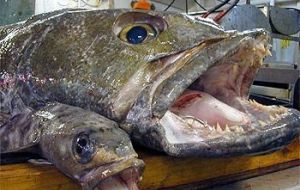 The South Georgia and South Sandwich toothfish fishery is one of the highest-scoring Marine Stewardship Council certified fisheries, underpinned by scientific research, ecosystem-based precautionary management, and careful monitoring and enforcement.
It has developed following close collaboration between operators, scientists, NGOs and Government.
The SGSSI Government is proposing a number of changes to the management of the fishery in support of its fisheries objectives. Key among these is a proposal to extend the toothfish licensing period from 2 to 4 years (with a review planned after 2 years).
The establishment of a 4-year licensing regime would mean a number of changes to the way in which the fishery operates including the application assessment process and the compliance and enforcement regime. Details of the proposed changes were set out in a consultation. The outcome will be published on the SGSSI website when available.
In related news it was announced that Sue Gregory has been appointed to the position of Marine Environment & Fisheries Manager following an open recruitment process.
Sue has been working with the SGSSI Government for the past 5 months on secondment from the British Antarctic Survey where she has spent the last 8 years as a fisheries ecologist for the King Edward Point project funded jointly by the SGSSI government and the Foreign & Commonwealth Office.
She has a strong background in marine biology and fisheries management and will be closely involved in the forthcoming 5-year review of the Marine Protected Area and development of future licensing arrangements and management of the fishery. After a short break at the end of her current secondment Sue will be joining the Government at the start of November, spending time in both the UK and the Falkland Islands in undertaking her role. (South Georgia Newsletter, August – September 2017)