"Untouchable" Temer does it again: Brazilian congress will support his full presidential mandate
Thursday, October 19th 2017 - 20:53 UTC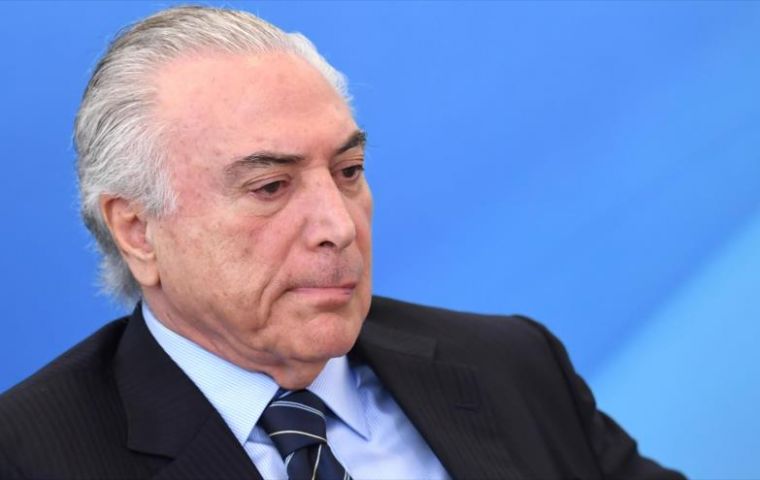 A Brazilian congressional committee on Wednesday voted against making President Michel Temer stand trial on corruption charges. The 39-26 vote by the justice committee in the lower house was non-binding but gives Temer political momentum ahead of the full chamber taking up the issue.
Temer, the first president in the country to face criminal charges while in office, is accused of obstruction of justice and racketeering. He denies any wrongdoing and has argued that the country needs him at the helm to bring in market-friendly reforms after two years of deep recession.
Critics say Temer is deeply corrupt but is almost untouchable in a Congress where many of his allies are also accused of shady dealings. He has been courting legislators for days to ask for them to vote against a trial.
With the committee recommendation out of the way, he will next defend himself in the full house, where 342 of 513 deputies would have to vote against Temer for the case to go to the Supreme Court for possible trial.
Anything less and the charges would be thrown out as long as Temer remains in office.
Temer already defeated a first criminal charge of bribe-taking when the lower house overwhelmingly voted against a trial in August. Analysts say he now has at least as strong a majority to combat the new charges.
However, the scandal has weakened Temer's ability to pass tough austerity reforms, particularly a trim of the country's generous pension system.
It has also made him the most unpopular leader on record. A poll in September found that only three percent of Brazilians think his government is doing a good or very good job.
The latest charges involve Temer's alleged agreement to pay hush money to keep a jailed politician from testifying and his leadership of a group in Congress that took millions of dollars in bribes from companies seeking state contracts.
According to the charges, Temer "acted as leader of a criminal organization" comprising senior officials from his centre-right PMDB party. They allegedly took the kickbacks in exchange for contracts at public companies like oil giant Petrobras.
It was also revealed that Temer considering whether to appoint a new chief for the state development bank BNDES who is connected to Congressional Speaker Rodrigo Maia, newspaper Estado de S. Paulo reported.
Estado reported that Maia would like to have greater say in economic decisions and favors Luciano Snel, president of insurance broker Icatu Seguros SA, to head the bank. Since Maia presides over the Lower House of Congress, his aspirations have undoubtedly reached the office of Temer.