A Rose for Peace presented the Falklands by Argentine students
Friday, October 20th 2017 - 06:03 UTC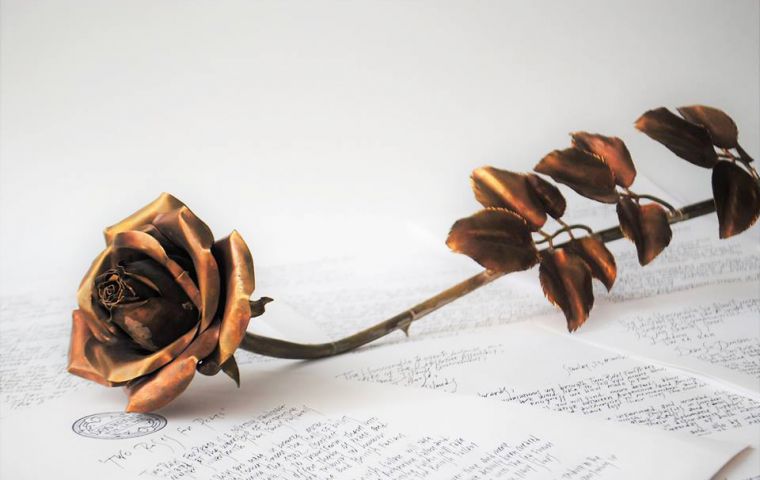 The large number of Argentine visitors to the Falkland Islands this week included pupils of the Don Bosco College in Ensenada. Having spent the first full day of their stay visiting the military cemeteries at Darwin and San Carlos where they paid tribute to the fallen of both sides in 1982, on Monday the group, whose visit was arranged in conjunction with the British Embassy in Buenos Aires, was given a presentation on the Falklands by the FIG Policy Department.
On Tuesday afternoon the group gathered at the Historic Dockyard Museum in Stanley for a private showing of the 'Through Children's Eyes' audio-visual presentation. This presentation, recounts in their own words the experiences of those who were children in the Islands during the occupation and liberation of the Falklands.
Following the screening, the students presented a rose branch made from metal taken from shell casings by master silversmith Juan Carlos Pallarols.
On the leaves of this rose are engraved the names of the three civilian ladies who died in Stanley on the night of June 11/12 1982 as a result of accidental fire from a British warship.
The rose was received by John Fowler in whose house the tragedy occurred. John took the opportunity to talk to the students about the civilian experience of this unhappy time and to say something about the three ladies: Mary Goodwin, Doreen Bonner and Susan Whitley.
The rose presented was one of a number already made or to be made as part of an international movement known as Two Roses for Peace. Their aim is to pay tribute to the victims of all wars and to "symbolically conjure up a wish for universal peace".
One of these 'roses for peace' can now be seen at the Imperial War Museum in London (Penguin News)