Uruguay's football caught between a rock and a hard place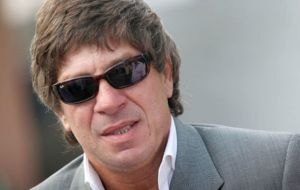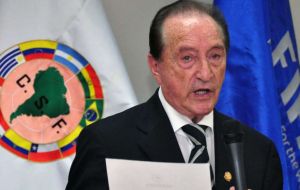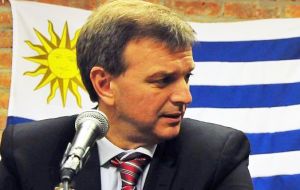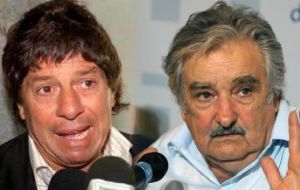 Soccer passionate Uruguay is again with no matches this weekend in the local major leagues and could be for several weeks, because of a conflict between professional players demanding to remove the authorities of their association and a call for fresh elections. A request supported by six hundred signatures, and until complied there will be no games. The measure has been supported by the referees association.
A judge has ruled that the current authorities of the players' union can't be removed until 2018, but an administrative appeal to the Ministry of Education and Culture which can intervene in civil organizations, such as the football players union, has being ignored for over eighteen months.
However as usual things are not as simple as they seem when it comes to the beautiful game since, money and politics, politics and money, are closely intertwined, which is particularly true in South America and Uruguay is no exception.
At stake in the current dispute is the players (and now also referees) image rights which currently rest in the questioned players union, under control of Uruguay's football main promoter and overseas salesman of players, Francisco "Paco", Casal, who also happens to be a close friend of ex president Jose Mujica.
Casal, a mediocre ex player has shown to be an excellent business man, sometimes using bullying methods, and since the nineties managed to obtain in exclusivity the television rights of Uruguayan football, a bottom rock long term contract, plus promotion of the national team, the static publicity in the country's main stadium, and some merchandising rights. He managed this through corrupt football team officials, particularly Victor Figueredo, the ex FIFA vice president who was caught in the FBI dragnet with Blatter and his gang, and who at the time was head of the Uruguayan football association, AUF, (1997/2006).
Casal's move was also helped by the greedy Uruguayan, family owned television channels, which refused to pay for airing football matches, or sharing publicity income, and some of the presidents of local clubs who kept the lion's share of the sale of Uruguayan players overseas.
When Casal came on stage with the right contacts in Brazil, Spain, Italy, he sold players at higher prices, gave them their full transfer and kept a modest commission. He also handed out to debt ridden Uruguayan teams sufficient funds to keep afloat, while he was given first pick of promising future players. His company Tenfield managed television rights from which he distributed the funding to clubs, and with the only exception of a couple of sports journalists, had all the local media on his payroll or knees.
However with time Casal also became greedy or rather Uruguayan overseas players came aware of the magnitude of the football business, and even more surprised about the leonine conditions of the contracts he enjoyed, including for example the commercialization of Uruguayan players images.
To understand the impact of this situation and soccer for the people of Uruguay it must be recalled that the country with a population of only 3.3 million has won two Olympic gold medals, two World Cups, managed a meritorious fourth place in Mexico and South Africa, and has now qualified for Russia 2018 only behind Brazil in the South America qualifier.
Besides Peñarol, Uruguay's most famous team, together with Real Madrid were chosen as the best sides of the XXth century. Several Uruguayan players such as Suarez, Cavani, Godin, Vecino are stars in some of the world's best teams and it is estimated that over 200 Uruguayan are playing professionally all over the world. And for many families having their child become a great star could mean lifting them out of poverty and necessity.
It was precisely pressure from the overseas Uruguayan players and the sweeping cleanup of Latin American and US football officials implemented by the FBI when the FIFA leadership was arrested in Switzerland, that the Uruguayan Football Association managed to make Casal compete and pay several times more for the promotion of the Uruguayan national team and the controversial issue of image rights of its members.
Since then the battle has been ongoing, and thus the local professionals under the banner of "More United than Ever", Más Unidos Que Nunca, have said they will not return to the fields until the Players Association leadership is removed and fresh elections held, since it is seen as a stronghold of Paco Casal, and the institution from where players images are commercialized.
Furthermore also in discussion is whether to extend Tenfield's contract for exclusive filming rights of Uruguayan football, currently until the mid twenties, to 2032. This would cover the 2030 World Cup which Uruguay and Argentina are bidding to host on the centenary of the first World Cup, 1930, played in Montevideo, and won by Uruguay, defeating Argentina 4-2.
But Casal has powerful friends, one of them ex president Jose Mujica and his gang of crooks. Links are so close and influential that during his presidency, (2010/15) the Uruguayan Tax Office, DGI, condoned the Tenfield group a debt of almost 100 million dollars, generated by his activities, including players' transfers overseas.
One of Casal and Mujica's close friends in football is the so called "Sky-blue Duck", a notorious character who would dress up as a duck with the Uruguayan team shirt acting as cheerleader during the matches. He use to live in Mujica's farm and has been jailed more than once for forgetting to pay debts. A close friend of Venezuela´s Chavistas he now has a condominium of summer cabins in one of Uruguay´s seaside resorts.
However it must also be pointed out that not all is rotten in Uruguayan football. In effect the president of AUF from 2009 and 2014, when Uruguay managed a meritorious fourth place in South Africa, Sebastián Bauzá is the only head of any South American football association who has not been indicted, jailed or even mentioned as involved in corruption activities by the FBI major investigation. This despite the fact that the ex FIFA vice/president Figueredo, under home arrest for life, has repeatedly claimed he deposited the "share take" of the corruption funds in Bauza family's bank accounts.
But obviously, Mujica had him sacked when Bauza openly opposed the advances of the Tenfield group to retain their privileges. In Uruguay it is a non written rule that the president of AUF belongs to the same political party in government.
The latest steps of this labyrinth has seen the Uruguayan congress Labor Affairs committee invite sides involved to bridge and discuss the issue and help the resumption of soccer matches. Given his international prestige and friendship with some of Uruguay's national team players, ex president Mujica has been invited to mediate and has held some first meetings.
However it must also be recalled that Mujica in the midst of the conflict recommended players "don´t be so hard on Casal, where are the bucks going to come from, if not?" Which is not necessarily true but the fact is that maybe there are too many professional clubs in Uruguay, given the means to finance them.
Last but not least it is worth mentioning that even when the international governing body FIFA, and the football business even today, following the alleged cleanup, is surrounded by a strong suspicion of ill-doings mainly because of the decades of the South American mafia dealings (Joao Havelange, Julio Grondona, Nicanor Leóz, among others, and their successor deranged Blatter), they effectively transformed an opaque organization into a financial and political global success. There are no barriers to football anywhere in the world and FIFA has more country members than the United Nations.